Six artists, six different styles and six different themes; coming together for an exhibition currently on display at the Barefoot Gallery. Prior to the exhibition, some of the artists were completely unacquainted and till the day their work was hung on the gallery walls they were unaware of the others' work.
The six artists, Mariah Lookman, Thamotharampillai Shanaathanan, Lala Rukh, Muhanned Carder, Ieuan Weinman and Vaidehi Raja were however surprised by how their work linked together. Ieuan says that after seeing the work they identified relationships between the artwork and how they interacted. Titled Non-Aligned, the artists' work vary from collages, paintings and abstracts to installations.
The exhibition aims to encourage new approaches to creating art and questions the fixed identities in the present. It draws inspiration from political movements against imperialism, neo colonialism, domination and military aggression.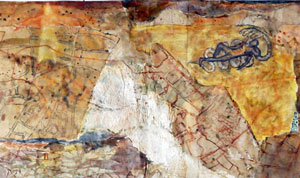 Shanaathanan, influenced by Sri Lankan civil war
While these can be better understood by viewing their work, the following is a brief introduction to some of the artists and their artwork currently on display.
Mariah Lookman is a Pakistani artist who distinctly makes large-scale drawings on paper. Her work tends to correspond to meditation and 'obsessive observation'. Describing her work on display for Non-Aligned, Mariah says it symbolises water, the ocean. Inspired by her long trips out at sea for her video work, in two paintings she has recreated the cycle of serenity and aggressiveness of water.
She says sea water symbolises making, creating time and evolution- since life emerged from the sea.
Lala Rukh is also a Pakistani artist. For Non-Aligned she has contributed a sound piece 'Subh-e-Umeed' and a set of drawings depicting music. Titled Qat/Taal, Qat Iktaal and Keherva Jhoomar, her drawings provide visual imagery of the complexity of Indian music in calligraphic style.
Ieuan Weinman is well known for his large scale multi-media installations. He's made paintings, drawings, videos and constructions. Ieuan's work on display, are extracts of life in Sri Lanka and in Australia, and each painting interacts with the other as they are placed to overlap or are right beside each other, on a larger installation of back net and bamboo.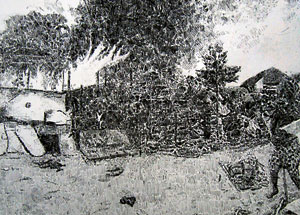 Ieuan's smoke and fragments
Muhannaed Cader's works are essentially drawings and paintings that highlight the satirical and ironical aspects of everyday politics. His work displayed at Non-Aligned is titled 'Never-mind the Bull----' which is a showcase of debris he discovered on the beaches of Sri Lanka.
The paintings are set in a particular order—a message the viewer can interpret for themselves, each image is a portrait in itself and has a comical attribute. Muhanned explains that his paintings are hyper-realistic; a simple object is made into several different things.
Thamotharampillai Shanaathanan chiefly works in mixed media and installations and has been inspired by the impact of the Sri Lankan civil war on the individual. His work has the distinctive backdrop of cartography. However he says currently the background is becoming an influencing part of life and it is the main component of his work at Non-Aligned. Two large collage works, revealing the connections between different aspects of life, which is also expressed in different styles of cartography, Thamotharampillai's work is loud and bold.
Vastly different but interconnected, to see how these paintings interrelate, visit the Barefoot Gallery where the exhibition will be on display till April 17.