The Sri Lanka Institute of Information Technology (SLIIT), a pioneer in the fields of Information Technology, Business Management and Electronic Engineering, has to date provided scholarships amounting to Rs. 50,000,000 since the institute's inception.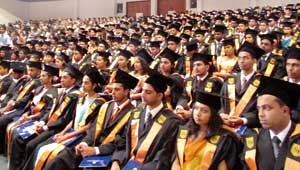 SLIIT's unique scholarship schemes, designed to maximise students' potential while providing a valuable boost for their academic progress and development, seeks to equip students with the necessary skills to meet the challenges of emerging trends within the relevant industries today, and recognises the growing need to produce top notch professionals who will make an important contribution to these industries.
"Each year, SLIIT provides up to 120 scholarships to top students (40 full scholarships and 80 half ones, and to date, the institute has awarded scholarships worth Rs. 50,000,000, providing valuable opportunities for students to hone their skills in their chosen fields of study" states Professor S. Karunaratne, Chairman of SLIIT.
Professor Lalith Gamage, President and CEO of SLIIT elaborates that "the scholarship schemes currently offered at SLIIT provide vital pathways for students through the collaborative efforts of SLIIT's academic and industry partners, ensuring that students have more scope for development to become highly skilled and competent professionals ready to tackle the immense challenges posed by today's competitive business environment".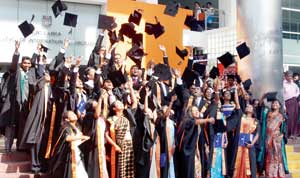 SLIIT Scholarships – Performance-based scholarships (First year onwards)
These performance-based full and partial scholarships are awarded each semester to undergraduate students at SLIIT. Recipients are selected on the basis of their academic performance at each semester examination, and the cut-off GPA/Aggregate marks are determined by the number of scholarships that are being awarded, which currently rests at approximately 40 full scholarships and 80 half scholarships per academic year covering all four years of study. Students registered for Degree Programmes of partner Universities of SLIIT would be eligible to receive these scholarships up to the Diploma level only. SLIIT Scholarships – Z-Score + Performance-based scholarships - (First year onwards)
Students with an Z – Score of 1.40 and above at the G.C.E Advanced Level Examination are eligible to apply for these scholarships, which are awarded each semester. To continuously receive these scholarships, eligible students should achieve the best ten positions in terms of the GPA in each of the semesters to follow.
Virtusa Scholarships – Merit-based and Need-based Scholarships (For Third year students in the IT and CSN streams) Virtusa Pvt. Ltd, a global IT services company providing IT consulting, technology and outsourcing services offers a scholarship scheme for students who would be entering the fourth year of the B.Sc Special Honours Degree Programme to pursue studies in the Information Technology (IT) and Computer Science and Networking (CSN) streams. Under this scheme, third year students with a GPA of 3.50 or above will be eligible to apply for Merit-based scholarships by the end of their third year. These scholarships comprise a monthly living expense, a laptop, course text books, an English Language Programme with a reputed organization such as The British Council, and a three month stint in UK at a leading global company. Selected candidates will be offered valuable career opportunities within Virtusa upon completion of their three month internship in Britain.
IFS Scholarships – Merit based scholarships (First year onwards)
IFS, a prestigious IT company with a strong global presence, offers scholarships through Industrial and Financial Systems Ltd. to select students in the IT or Computer Systems and Networking Streams on the basis of the performance of new entrants at the Aptitude Test which is conducted for select students for admission. These Scholarships comprise of payment of semester course fee by IFS, a monthly allowance to the recipient, part-time employment at IFS upon successful completion of the Degree Programme and further employment opportunities at IFS.
Exetel Scholarships – Merit based scholarships (First year onwards)
Exetel Sri Lanka, a well-known service provider of data and telephone communications services, offers two scholarships annually to SLIIT students following the Information Technology and Computer Systems and Networking Degree Programmes. Recipients with a GPA of 3.50 or above are selected at the first semester examination of year one, followed by an interview with the Exetel Management. Recipients are required to enter into an agreement with Exetel that would cover the conditions relating to the scholarship, and must maintain a CGPA of 3.5 or above to continue to receive this scholarship during the following semesters. These scholarships comprise the payment of the semester course fee by Exetel, a part-time internship, and on completion of the Degree, employment at Exetel.