The phone rang incessantly. It was hockey great Tissa Ettipola. He sounded agitated when he said in one breath, "Freddie White is in town." I told him to settle down. He burst out, "Freddie White is here on a visit. It may be his last trip to Sri Lanka." I took down the details to meet him.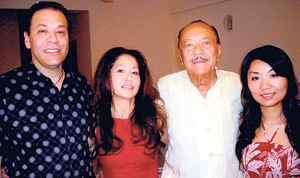 Freddie White (third from left) with is son Dhyan, daughter Bernadette and daughter-in-law Mary (extreme right)
Already Sri Lanka's hockey world was agog with the news. Dinners were being planned to greet this hockey legend. I met Freddie, looking prim and smart. He recognized me at once and we delved into hockey, a game that Sri Lanka held third spot in Asia behind India and Pakistan in the 60's. He looked prim and proper, much younger than his actual 80 years.
Sri Lankan sports fans need no introduction to this sports legend. He held Asia's No 1 spot as the goalie or custodian and was a much respected Sri Lankan skipper. One need not introduce him as Duncan White's brother. Duncan White of course was Sri Lanka's Silver Medalist at the 1948 London Olympics in Hurdles. Duncan sadly passed away in London a few years back.
Freddie White held center stage as Asia's top custodian at Asian Games level from 1965 to 1970. His last appearance for Sri Lanka was at the Asian Games in Bangkok when S.L.B. Rosa brought Gold with his barefoot running in the 10,000 meters. That was the era when Walter Jayasuriya, often referred to as the 'Father of Sri Lanka Hockey' reigned supreme. Now his daughter Nimal Ettipola and her husband Tissa Ettipola are trying their best to keep the game alive with a few stalwarts.
"What happened to Sri Lanka hockey?" asked Freddie flabbergasted. I kept silent. "I think officials these days are keener on making foreign jaunts," and he laughed. But everybody knows it is no laughing matter. Hockey thrives in places like Matale and Kandy. It is very popular in schools in Colombo and the outstations. The National Championships are held every year, but the sparkle that existed in the 60's is sadly missing.
"I can take a safe bet that the women's team in Australia will beat the Lanka national team any day," said Freddie. Freddie shifted to Australia many years ago and his reason to visit Sri Lanka is to pay homage to his parents' graves in Mahiyawa, Kandy.
Freddie received his primary education at Kingswood College Kandy and he says with pride that they were All Island Champions then. He noted with pride that Kingswood was doing well in schools rugby now.
Later he turned out regularly for the Burgher Recreation Club (BRC) in Colombo. "I remember playing against BRC when Kingswood were All Island Champions. At that time the late B.R. Heyn captained the BRC. I developed a liking to the BRC and threw my lot with the BRC after I left Kingswood," recalled Freddie. Later Freddie played for the BRC with the likes of Labrooy, Modder, Earnie Kelaart and shifted his attention to Bloomfield hockey, a sport that Bloomfield does not dabble in now.
Regarding his visit to Sri Lanka Freddie said: "I had this longing to see my parents' graves'. And it was made possible by my daughter. So here I am. I cannot say how long I will live. I miss Sri Lanka very much. It is really a beautiful country."
Very soon we were joined by Freddie's son Dhyan, named after Indian hockey wizard Dhyan Chand, his daughter-in-law Mary and his daughter Bernadette. "I named my son Dhyan because of my attachment to hockey. He now resides in China and is married to Mary, a Chinese."
Dhyan is an Old Peterite and took part in athletics, his specialty being Hurdles. He left St. Peter's in 1971. After migrating to Australia Dhyan played an active role in hockey, the sport his father excelled in. Daughter Bernadette shone in athletics, hockey and netball whilst attending St. Lawrence School in Wellawatte. Freddie's wife Lavender (nee Brohier) played Netball for BRC and took part in major competitions in Sri Lanka.