Shane Duff, a fitness trainer who holds a Bachelor's degree in Human Movement Studies from the Australian Catholic University, Sydney would be in Sri Lanka for a ten day period at the invitation of SLC from January 15 to 25th.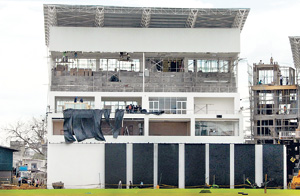 The latest state of the Khettarama Stadium where the bulk of the Sri Lankan leg of the 2011 World Cup would take place captured by our cameraman Sanka Vidanagama
Duff, a Grade I cricketer and former professional rugby league player has been invited by Sri Lanka Cricket at the request of Sri Lanka captain Kumar Sangakkara who wants to have a closer look at his wicket-keeping skills and hone it prior to the Cricket World Cup which is scheduled for next month.
He has worked in Sri Lanka on a short stint even prior to this. Besides that at one juncture he was also approached by the Lankan authorities to be employed as the Assistant Coach of Sri Lanka; but the job finally went to the former prolific Australian batsman Stewart Law.
A spokesman for the SLC said "Duff was invited on the request of Kumar who would like to be in good shape for the big one in February". When asked how the SLC was approaching the sticky subject of the ground preparation for the World Cup was progressing the SLC source said that "We have to hand over the three venues to the ICC by the by the 15th of January and we are ready for it. The ICC representatives are scheduled to arrive in the island on the 18th of this month and they would stay here till the 20th. By the 20th he would visit all three venues – Khettarama, Hambantota and the Pallekelle Stadiums. We have to hand over the finished products only at this point."
In another pre-World cup exercise the SLC will conduct the two semi-finals of the on going Premier League tournament on the 6 and 7 of January and also conduct the day-night final on January 9 at the Khettarama Stadium. The final would be telecasted over the Sri Lanka Rupavahini Channel live.