University students continued their protests this week with demands for the release of students held in custody and an end to student suppression. The government responded by giving the university marshals authority to nip untoward incidents in the bud.
According to the IUSF this is another step taken to suppress the student unions. The Acting Convenor of the Inter-University Students Federation (IUSF) Sanjeewa Bandara said, by the giving university marshals extra powers and spreading false rumours of an impending armed insurgency by university students, government was creating a background for the total suppression of the student movement.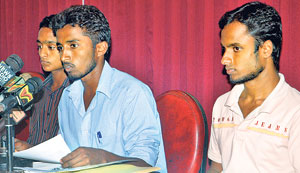 Acting Convenor of the Inter-University Students Federation (IUSF)
Sanjeewa Bandara at the news conference. Pix by M.A. Pushpa Kumara and Ranjith Perera
"This means government is going to use the military to suppress university students" he said. Students would participate in an insurgency only if they want to take over state power he said. People should understand "We are merely a student group which wants to change society for the better" he said.
Presently, 29 university students are being held in remand custody. Among them is the Convenor of the Inter University Students' Federation Udul Premaratne. Two students of the Kelaniya University were arrested last Wednesday while pasting posters protesting the unjust arrests of the students and student leaders. They have been charged with being involved in anti-government activity.
Four students of the Ruhuna University Medical Faculty were taken into custody last Friday by the Matara police while distributing leaflets against the setting up of private universities. Commenting on these arrests Bandara said students held in custody were being questioned by the CID for hours on end and treated worse than common criminals.
Referring to a statement made by Higher Education Minister SB Dissanayake that the IUSF was creating problems in universities to maintain its control over these bodies, Bandara said the organisation did not need more power as the IUSF had sufficient student power.
"We fight for just causes" he said. Minister Dissanayake sees the fight, but not the cause", he added.
He explained there was a shortage of hostel facilities, lecture rooms, canteens and added the bursaries paid through 'Mahapola scholarships' were low and insufficient.
According to him the clash with the administration arose as the latter didn't pay any attention when these matters were raised during discussions. "Students have been chased out of hostels at the Kelaniya University, and in the Ruhuna University, he charged. There are faculties which have only 20 computers for 1,300 students and 130 chairs in the canteen for 3,000 students". He added many faculties did not have sufficient lecturers and lecture halls. Students don't have basic facilities he charged.
Despite Minister Dissanayake's statement that government' expenditure per university student had been increased from Rs. 164,000/- to Rs. 240,000/- since 2006, Bandara said during the past four years alone government had in fact cut allocations for education by 50%.
He said Minister Dissanayake's claim he had asked his lawyer to represent the university students in Courts had in fact provided no relief to parents. This lawyer had demanded Rs. 100,000/- as his fee and parents were expected to pay Rs. 5,000/- each to him as lawyer's fees Bandara explained.
"Parents realised how they had been deceived once ISUF affiliated lawyers began representing students without any costs". The IUSF convenor added it was ironical situation as it was the same man who was responsible for having the students assaulted, arrested and later having them remanded.
78 universities functioning under BoI: Minister
Speaking at a news conference Minister Dissanayake said what was needed was a university system which provided sufficient cadre of proficient lecturers, students who attend lectures, who were fluent in English and familiar with modern technology.
He added competition arising from the establishment of private universities in the country would help to build that kind of a local university system. "We are not privatising universities or university education, but only creating conditions needed to establish more private universities within the country".
The Minister said that 20% of the local intake would not be charged tuition fees and laws would be enacted to prevent local university professors from being hired on a permanent basis by these bodies.
He added that already 78 private universities had been registered under the Board of Investment and around 50 of them are already functioning.
Commenting on the students who were held in custody, the Minister said he took no pleasure in keeping students in jail, but he was not in a position to influence the judges to take any particular course of action regarding the matter.