Serious financial irregularities have been revealed in a report on a fund set up to tackle thalassemia, a medical problem peculiar to families living in Wayamba, or the North Western Province. Thalassemia is an inherited blood disorder, and the majority of the country's thalassemia patients are concentrated in Wayamba, which comprises the districts of Puttalam and Kurunegala. The teaching hospital in Kurunegala specialises in treating thalassemia.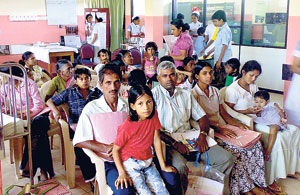 Funds that were set aside to treat thalassemia patients in Wayamba have been misused, an audit report alleges. Pix by Pushpakumara Jayaratne
The thalassemia fund was established by the Wayamba Provincial Health Minister, Asoka Wadigamangawa. The fund was operated by Health Director R. M. S. Rathnayake and supervised by Dr. P. Muthunayake.
The fund office was sealed when complaints of misuse of monies were reported. Wayamba Health Secretary P. M. Sirisena held an inquiry and seized all documents relating to the fund. An audit was conducted by audit director, M. A. Dayaratne.
The audit report lists a string of irregularities. The following are some of the irregularities:
– Five laptops were purchased at a figure that was Rs. 92,960 in excess of the real purchase price, and the payment went to a third party, not the laptop vendor. The machines were later found to be faulty. Three of the laptops have since disappeared.
– A tender called for the making of a documentary film on thalassemia was awarded to a motorcycle dealer and the owner of a private film studio.
– A sum of Rs. 137,700 is missing from the proceeds of a thalassemia lottery campaign.
– Irregularities were noted in the purchase of laboratory equipment.
– A sum of Rs.177,000 was paid for a piece of laboratory work, without the work being inspected before payment.
– A motorcycle tour incurred Rs. 233,756 in expenses. The audit report noted that none of the expenses had been approved, that there was no bank account set up for the fund, and there was no financial supervision.
Meanwhile, Health Director R. M. S. Rathnayake has rejected the report, saying its facts and figures are distorted. He denied any irregularity, and condemned the report as an act of "sabotage."
Last week, the Government Medical Officers Association (GMOA) went on a token strike when one of the persons named in the report was given a promotion.
Dr. A. Edirisinghe of the GMOA, Kurunegala branch, has called for an investigation into the allegations of misuse of fund monies.