A concert with two well-known pianists Ramya de Livera Perera and Soundarie David Rodrigo will go on the boards of the Lionel Wendt Theatre on October 26 at 7.30 p.m. The selection of pieces showcases the variety of colours that can be experienced from two pianos. Ramya and Soundarie have chosen the programme mostly from the romantic period-works by Rachmaninov, Liszt and Saint-Saens.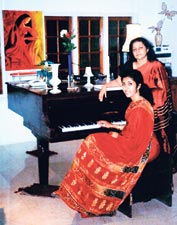 Soundarie and Ramya
Rachmaninov's Suite No. 2, originally played by the composer and his cousin and teacher is perhaps his most ebullient and upbeat large scale work. Another favourite is Liszt's – Rhapsody No.2, a show piece with exciting folk dances reflecting the Gypsy culture.
Saint-Saens variations on a theme by Beethoven will also be performed at the concert. A simple minuet melody variated in the hands of a prodigy, it is a light work, with an elegant line
Ramya and Soundarie, have been performing as a piano duo, exploring works specially written for two pianos as well as works written as duets. After a successful concert in Colombo last year, this duo was also invited to perform in Bombay where their concert was well received.
Ramya is a graduate of the prestigious Royal Academy of Music, UK. While an 18-year-old student at the Royal Academy, she was selected to represent it at a leading artistic occasion, when a cultural centre was established in Malta. She has performed as soloist and as collaborator, with distinguished artists in Sri Lanka, and abroad.
Also a violinist she is the co-leader of the Symphony Orchestra of Sri Lanka, and enjoys accompanying and playing in chamber ensembles both violin and piano. Ramya has found great pleasure in recent years in training young people to excel at the piano both within and outside the exam process. In 1993 the Royal Academy of Music conferred on her at a relatively young age, its coveted Associate Membership.
Soundarie David Rodrigo, completed her musical career at the Royal College of Music in London, where she was conferred with the award, Associate of the Royal College of Music, in piano performance and piano accompaniment. While there she participated in the prestigious Piano Platform series.
To add more colour to the evening, two guest artistes Preshi Navaratnam (soprano) and Dushy Perera (cello) will also perform. The box plan is open at Lionel Wendt and Titus Stores at Liberty Plaza.