He is fine………smiling, laughing, gurgling, shouting and gaining weight like any other three-month-old. Yes, this is the 'Bubble Baby of Sri Lanka', Sanjana Praveen Shivanka who is now at the Apollo Speciality Hospital in Chennai, India, for the treatment of the rare genetic disease, Severe Combined Immunodeficiency Syndrome (SCID).
Parents K.B.N. Damayanthi and K.W.N. Neil Shantha of Dippitigala, Lellopitiya in Ratnapura were able to overcome what seemed like an insurmountable challenge at the time of his birth due to the overwhelming response of the generous readers of the Sunday Times.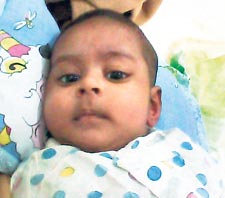 Three months now: Baby Shivanka at Apollo Hospital
The parents needed funds to take their infant son to Chennai because Sri Lanka does not have the facilities to treat SCID and their impossible dream became a reality when Sri Lankans, both here and abroad rallied round, making the fund swell to Rs. 5.2 million.
Baby Shivanka (born on July 12 at the De Soysa Hospital for Women) who reached his three-month milestone on October 12 is doing fine following stem cell therapy last week, the Sunday Times learns.
"As SCID is a rare disorder the decision on the best course of treatment for him had to be well thought out. It had to be the one which carried the least danger to his life," says Medical Geneticist Dr. Vajira H.W. Dissanayake of the Human Genetics Unit of the Colombo Medical Faculty who paid a flying visit to see the baby while on his way to a conference in Mumbai, explaining that such precautions were essential as pre-treatment prior to the bone marrow transplantation carries with it the risk of mortality.
The need is to ensure treatment that will bring about the best outcome in the long term, he says, adding that therefore Shivanka received stem cells harvested from his father, Neil, rather than those from a donor.
The final decision on the best treatment option was taken by three teams of doctors – those from the Apollo Speciality Hospital, Chennai, the Great Ormond Street Hospital, London, United Kingdom and Sri Lankan doctors.
"We will have to wait another two to three months to know the success of the procedure," said Dr. Dissanayake who saw baby Shivanka the day after his treatment, adding, "since we identified Shivanka as being affected by SCID before he was born and were able to send him for treatment before he developed any major infections, we have a good chance of success. Shivanka is receiving the best of care that any baby with SCID could hope for."
For this a heartfelt THANK YOU goes out to you, our dear reader.