The Sri Lanka Institute of Information Technology (SLIIT), one of the largest degree awarding institute for Information Technology in Sri Lanka, will soon broaden its horizons with the expansion of the institute's network to Bangladesh.
SLIIT will also venture to Jaffna, where a state-of-the-art faculty will be inaugurated to provide ample academic opportunities for students in the region. The spread of IT through government initiatives such as the Mahinda Chinthanaya has sparked many opportunities for students and communities to derive empowerment and place Sri Lanka on the global map as a leading knowledge and educational hub.
As a result of these frameworks which have been implemented, there has been significant growth in the IT sector within the past few years, resulting in a robust industry which continues to reveal immense scope for development and innovation.

RoboFest 2010, organized by the Department of Electronic and Computer Engineering at SLIIT, saw 31 teams battling it out to produce the most technologically advanced creations to bag prizes awarded by sponsor OREL Solutions, local distributor for FARNELL, UK. Pictured here are the winning Team Bathurst and 2nd runners up - Team Gladiators with the organising committee at RoboFest 2010.
In keeping with the IT-driven focus which has begun to permeate much of the Sri Lankan landscape, SLIIT seeks to expand its existing network of campuses overseas in order to provide more opportunities for South Asian students.
Chairman at SLIIT, Professor S. Karunaratne elaborates that "we will soon introduce programmes which will enable Bangladeshi and foreign students the opportunity of studying in Sri Lanka as well. This marks a significant step towards strengthening academic ties between the relevant countries, providing broader scope for students and creating a space for further development and innovation where highly skilled professionals will be produced to cater to challenging industry demands". "Bangladesh serves as an ideal backdrop for expansion, especially for Business and IT-related fields. Our vision is to be among the top 10 universities in the South Asian region within the next decade" explains Professor Lalith Gamage, President and CEO at SLIIT.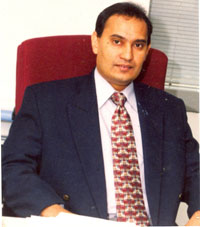 Professor Lalith Gamage
SLIIT will soon establish a branch in Jaffna, which is to be located in the heart of the city. Well-qualified lecturers, mainly from Jaffna, will facilitate student learning at the campus, and students will have the option of transferring to one of SLIIT's many branches or foreign universities to complete the final two years of their degree.
"With the increasing capacity for development which Jaffna presents, it is now the ideal time to contribute towards that development by providing academic opportunities which will benefit the community and aid in regenerating the North" noted Professor Gamage.
SLIIT has proven to be a top contender in the field of tertiary education, catering to student demands through many pathways, both foreign and industry-related in order to maximise student potential.
The institute has made a name for itself as one of the leading centres for IT, Electronic Engineering and Business, thus making an immense contribution to the relevant industries in the country.