The Academy of Design (AoD), South Asia's celebrated design campus offering globally accepted undergraduate qualifications in design education in Interior, Fashion and Graphics along with National qualifications in Jewellery Design, is a dynamic supporter of Sri Lanka's creative industries.
AOD aims to put Sri Lanka in the global design front through ventures like the Sri Lanka Design Festival, Graduate Fashion shows and exhibitions and more importantly, by producing a generation of expert designers and creative entrepreneurs.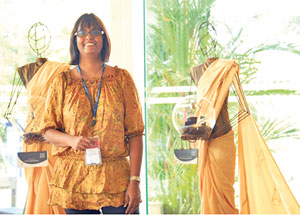 Yamini Balasubramanium of AOD designed a range of revolutionary jewellery display units using eco-friendly and recycled material for Facets Sri Lanka 2010.
Yamini Balasubramanium who is a final year student of the B.A. (Hons) Interior Design Programme of the Academy of Design, is among the many brilliant, creative young minds driven forward by the campus. Yamini who follows her own successful practice while completing her undergraduate studies at the AOD, is the genius behind the radical jewellery display units that attracted many admiring eyes during the Facets Sri Lanka 2010.
Yamini explains that the display units were designed in sync with the environmentally-conscientious notion behind Facets Sri Lanka 2010; "I used bio-degradable and recycled materials such as glass and steel for this display unit, in-keeping with the eco-friendly concept behind the competition this year.
I also wanted to go beyond the usual square, glass jewellery displays and create something more striking and phenomenal". Yamini thanked the AOD for offering comprehensive and internationally accepted creative education in Sri Lanka and for helping to create many avenues for young, creative professionals as herself.