At 12 noon I arrived at my favourite spot in London – Trafalgar Square. However, on this occasion, this was not my destination; just beyond was the church 'St Martin-in- the - Fields' to which I was heading to listen to Tanya Ekanayaka, the young pianist from Kandy. She had been chosen to perform in the 'Pianist of the World' series-- the first Sri Lankan ever to perform at the venue.
This church has for decades been in the forefront of bringing classical music to the masses- free lunch-time concerts and evening performances of chamber music (admission by ticket).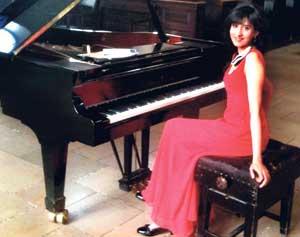 Virtuoso performance: Tanya before the concert
It was a glorious day and I dawdled on the steps of the church chatting to Sri Lankan friends who had turned up with the same objective.
On entering the church, I noticed that it was rapidly filling up. Around ten percent of the crowd were Sri Lankan, the others being local connoisseurs of music, assured of a musical 'feast', as one of the knowledgeable ladies who made it a point of attending the 'Musicians of the World' series, told me.
Tanya's entry set the tone for the concert. Elegantly dressed, perfectly poised, she sat at the piano, ramrod straight, and started playing without much ado. There were no piano scores or page turners.
She started off with great self-assurance which was maintained throughout (Bach, Prelude and Fugue No 7 in E Flat Major).
Bach is not easy to interpret; not easy to catch its soaring spiritualism. Tanya's interpretation was superb. Her notes, crisply and evenly played, transported us to another plane. The music literally 'sang'.
In less professional hands the presentation of Bach's music, although technically perfect, is often 'wooden', as I discovered at a recent piano recital in Colombo.
Then, on to an unfamiliar work- Beethoven's 'Pastoral Sonata' (Sonata No 15 in D major, Op.28) again played with the same degree of professional expertise. Her phrasing, nuances of expression, the evenness of her playing, could not be faulted. She caressed and coaxed her notes evoking an emotional response from her audience. Her rapport with the composition/composer was obvious.
Next, was a work by Maurice Ravel, where she conveyed the sensual experience of an idyllic setting with the rhythm of flowing water- just as the composer would have intended. The concert ended with Tanya's own composition-'Adahas' (of Wings and Roots); a complex profound piece in which the single treble notes of the folk melody ,'Tikiri, Tikiri Liya', were interwoven with a traditional classical composition. This short work evoked an enthusiastic audience response.
Her intense concentration and absorption in the music she performed was maintained at the same high level throughout. At the end of each piece, she momentarily relaxed with her hands clasped, as if drawing sustenance and energizing herself.
In Tanya we have a dedicated pianist of surprising maturity and tremendous potential. I look forward to her progress as an international artiste.