The Lanka Alzheimer's Foundation will present its annual musical evening which has been held over four consecutive years to celebrate World Alzheimer's Day.
The concert to be held at St. Andrew's Scots Kirk, on Tuesday, September 21 at 7.p.m. will feature the De Lanerolle Brothers, Natalie Gooneratne, Denham Pereira, Norma de Silva, Lenny and Shaenali Vittachi, Voice Print and the Voice of Praise in an evening of magical entertainment.
The Foundation's very own caregivers, Lenny and Shaenali will perform 'One More Memory', a song written by Brenda Hounam, a mother of two, from the perspective of a person with Alzheimer's Disease. In 2004, when Brenda spoke about how this disease had affected her, little did she know how much her life would change.
She spoke openly of her sadness at the thought of being unable to recognize her own son and daughter and especially of the pain and suffering this would cause them. A music lover, Brenda thought a song would be the best way to remind her children of her love for them.
'One More Memory' continues to touch hearts, and help loved ones cope with the unpredictable symptoms, onset and progression of Alzheimer's and related dementias.
The reputed de Lanerolle Brothers who do not need any introduction, are arriving from overseas just in time to perform at this concert, while Natalie Gooneratne, Denham Pereira, Voice Print and the Voice of Praise all of whom are well known in the music circle in Sri Lanka will add their musical expertise to the repertoire.
Norma, a music teacher for 23 years at a number of international Schools, had to leave her job due to recent memory loss. Norma will end the evening's programme with a rendition on the piano of 'How Great Thou Art'. Entrance is by programme which is being sold at Rs.500.
Orhan Pamuk and Kiran Desai; some of the big names this time at GLF
By Megara Tegal
Scheduled to take place during the last week of January 2011, the upcoming Galle Literary Festival will be marking its fifth year of enriching the country's literary sphere. Throughout the previous years the GLF Festival has brought world renowned writers and poets to Sri Lanka and the 2011 festival will see some of the finest yet. Sri Lanka will be introduced to winners of the Nobel, Booker, Orange, Whitbread and Commonwealth prizes as well as other lesser-known writers.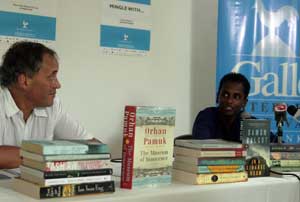 GLF organisers Geoffrey Dobbs and Shyam Selvadurai at the news conference
The Galle Literary Festival organisers revealed the names of some of the writers billed to attend the 2011 Festival at a news briefing held on Thursday, September 9. Nobel Prize winner Orhan Pamuk and Booker winner Kiran Desai (now incidentally a couple), Chimamanda Ngozi Adichie, Mohsin Hamid, Jung Chang, Andrey Kurkov, Damon Galgut, William Fiennes, Charles Allen, Pankaj Mishra, Tash Aw, Sill Dawson and Pauline Meville are on the list along with several local writers.
Poets Dalit Nagra, Roger McGough, Omar Musa, Vivimarie VanderPoorten and Tishani Doshi will also be at the event.
GLF 2011 will also focus on countries in the region, beginning this year with Malaysia- from writers and poets to chefs, 'providing a glimpse into the country's multi-ethnic society', according to the organisers. GLF 2011 will be held from January 26 to 30.
Illustrated talk on Sinharaja
Vimukthi Weeratunga, naturalist and author and presently the co-ordinator of the International Union for Conservation of Nature (IUCN), will deliver an illustrated lecture on "Sinharaja, the World Heritage Site", under the auspices of the Wildlife and Nature Protection Society.
The lecture will be held on Thursday September 16 at 6 p.m. at the Auditorium of the Sri Lanka Association for the Advancement of Science, No. 120/10, Vidya Mawatha, Off Wijerama Mawatha, Colombo 7 (BMICH end). The lecture is open to the public and entrance free.
Evening of western and oriental music
'Sangeetabimana' - billed as a world music concert will be held on September 18 at the British School auditorium at 6.30 p.m. It will feature western and oriental music performances, vocal items and Kathak dance by performers from India and Sri Lanka. Billed to perform are P. Sarathi Chatterjee, Harsha Makalanda, Ravibandhu Vidyapathi, Shastrapathi Peshala Manoj, Shastrapathi Sangeet Nipun Asith Atapattu, Thushari Bolukandage, Thanuja Ranaweera, Gayan Kodituwakku and Timal Jayamanna.
The concert is presented by Tamasha. A limited number of seats will be allocated on a first come first served basis. Invitations could be collected from the Tamasha office by contacting tel: 2588155 or 2508751.
Irrigation Department Ex-Officers' Association AGM
The 8th Annual General Meeting and get-together of the Irrigation Department Ex-Officers' Association will be held on September 19 at the 'Randiya Hotel' Koralawella, Moratuwa at 10 a.m.
Office bearers
The Annual General Meeting of the Sri Lanka - Australia - New Zealand Association was held at the Australian High Commission Auditorium on August 25 and the following were elected as Office Bearers for 2010/2011:
President S.S. Rajah, Vice President (SL) Buweneka Samarasekera, Vice President (Aust) Ms. Sophia McIntyre, Vice President (NZ) - Hony Secretary Ms B.LaBrooy, Hony Treasurer Dicky K Wijeyaratne, Committee Members: Ms. M. Adams, Ms. Shirlene De Silva, Vijaya Corea, Ajit Gonetilleke, Clarence Welikala, Ms. D. Martenstyn, Ms. Kalyani Ranasinghe, V.R. Vadivatkarasan, Dinesh Hiddellaratchi, N.T.M. Perera, Ms. Perera, S.K.N. Jayasuriya Committee Members (from Past Presidents): Chitty Jayawardena, Warren Solomonz
Please help Kushan who needs a bone marrow transplantation
Fifteen-year-old U. Kushan Udayanga, an O/L student of President's College, Rajagiriya has been diagnosed with chronic myeloicystic leukaemia which may be cured if he undergoes bone marrow transplantation.
As this procedure is unavailable in Sri Lanka, his desperate parents are attempting to collect Rs. 6.5 million to take him to India.
His father, U. Nimal Perera, a rural co-operative bank employee appeals for donations from generous people. The family lives at 346, Pahala Bomiriya, Kaduwela and can be contacted on 011-4903769 and 0729639154.
Contributions may be sent to Account No. 196-2-002-8-3882254 at the People's Bank, Kaduwela.

Opening of YMBA Pathway Pre-School
The Colombo YMBA Pathway Pre-School was declared open last week by the President of the Colombo YMBA Prasanna Goonetilleke. Also in the picture is Tilak de Zoysa.
Honoured for 25 years of service in broadcasting
The 15th annual convention of the Sri Lanka Muslim Media Forum was held in Kandy recently. Senior TV journalist and broadcaster U.L.
Yakoob was honoured for his 25 years of service in TV broadcasting. Here Mr. Yakoob is seen receiving an award from Chief Guest Prime Minister D.M. Jayaratne.
Also in the picture are Faizar Musthafa, Deputy Minister and President SLMMF N.M. Ameen.