Tuk-ish Delight followed by Trinco and Back, Orbis, The Third Wheel, Shake and Bake, Mothertukkers, the Wolf Pack, The Dragon Wagon, Where's Ali and Jar of Vegemite… in they came, a line of decorated tuk tuks carrying a bunch of excited, comically dressed foreigners.
Some 30 tuk tuks wrapped up this year's Lanka Challenge which brought about 80 adventurous foreigners to the island to explore its scenic beauty and culture on board a tuk-tuk. As they went from point to point each day, they had to face many challenges involving culture and community in unfamiliar terrain…manoeuvring a trishaw being the biggest of them all.
Lianne Dawes and Karen Tonner from UK, the two "Happy Hippies" as they introduced themselves got down from the 'Muthertukkers' in multicoloured outfits. The fun-loving duo who profess a fondness for wine, photography and dancing said they wanted to do something fun and different which is why they decided to hit the Lankan roads navigating the tuk tuk.
"Driving this was challenging and initially I was terrified. But later I really started enjoying it. When we had a couple of breakdowns, the locals came and helped us and that is something unheard of in our countries," said Lianne.
Their 10-day long journey took them right round the country from Katunayake through Negombo to Sigiriya, Trincomalee, Dambana, Arugambay, Buttala, Weerawila, Nuwara Eliya, Kandy and Colombo. The participants were judged by their tour timing from one point to another and the performance of tasks. The tour included two camping nights; one with the wanniyala-aetto in Dambana and another in Botakadan camp in Weerawila which is designed using Land Rover spare parts.
Ryan Cupps (USA) and Steve Webster (Canada) representing team 'Orbis' were thrilled with their experience; "We saw so many beautiful places, so many smiles. The weather is lovely and the food spicy. It was hectic driving in the city along busy congested roads. We let the buses go because they are the kings on the roads. The roads are bumpy and there were lots of turns and bends to take. Yet, it was fun."
Two friends, Rachel Cosgrove from Australia and Ed Hurt from UK were more than willing to pose for a photograph in front of the "Tuk-ish Delight" in their fancy Aladdin outfits, lamp in hand. They were impressed by the scenic beauty of the hidden territories of the island and the simple lifestyle of the rural folk. 'Getting to understand the local culture was interesting," they said.
Held for the second time in Sri Lanka, Lanka Challenge is organised by Dubai-based travel agency Large Minority along with Lets Travel Private Ltd in Colombo and the Sri Lanka Tourism Promotion Bureau. The participants were given a day's training on how to drive a trishaw and within hours they picked up the method, said Consultant, Special Projects Lets Travel Riza Badurdeen adding that afterwards they became careful and disciplined drivers. The maintenance of the locally hired trishaws was done by a technical crew throughout the journey.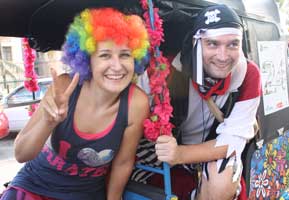 The participants were mainly from countries like UK, Dubai, South Africa and Australia., said Julian Carnal, of the Large Minority. "On our previous visits we had an awesome time in Sri Lanka. The beauty of the country and its friendly people make a good combination as a tourist destination here. Our intention is to show the foreigners the diversity of Sri Lanka, and create a positive impression among the world etc. While in Sri Lanka, we work closely with our partner charities and 10% of our entry fees are donated to them. The participants also raise their funds," he said.
"We selected trishaws as their mode of transportation because trishaws play a big part in the lifestyle of the average Sri Lankan. We wanted to give the foreigners that experience. It provides a closer insight into the country too," he added.
Rory Marrott and Stephan Adams (UK) of 'Shake and Bake' said they have travelled in trishaws in Thailand and Indonesia but when they got to know about the Lanka Challenge they wanted to join the tour.
Mark Lynch, Ramsy Labassi and Kieran Whickman (three school friends from UK)" from the team "Where is Ali?' said their camping experience with the Veddahs was "truly awesome. You feel like you were taken back to a pre historic period. It's a totally different world without cell phones, lap tops or i-pods," they said.
Their team was named after their best buddy Ali whose idea it was to join the tour although he himself didn't make it in the end. "So we asked 'Where is Ali?'" said a high spirited Mark adding that they were going to take a message back to their country and that is "Visit Sri Lanka, it's a fantastic island!"