ISLAMABAD AND BOSTON - Angelina Jolie, the Hollywood celebrity with access to everyone from heads of state to humble refugees, used her global megaphone today to solicit donations for Pakistan's 21 million flood victims. The United Nations, for whom Ms. Jolie serves as a goodwill ambassador, is struggling to raise the last third of a $460 million appeal for emergency funds.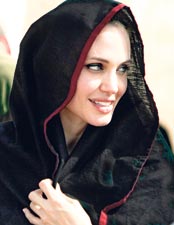 Angelina Jolie with Pakistan flood victims. Pix by REUTERS and AFP
A veteran of disaster scenes whose humanitarian work has taken her to more than 20 countries, Jolie said Pakistan's crisis was greater in scope than any she had ever witnessed.
While Hollywood stars rushing to disaster scenes often lead to rolling of eyes and complaints that they do little good, at least some veteran aid workers in Pakistan are delighted that Jolie is on the case.
Ishfaq Ahmed, head of operations for the Hashoo foundation in Pakistan, was grateful for the added attention she brought - particularly amid claims of corruption in aid distribution and complaints about Pakistan's mediocre record in tackling militancy.
"I think it's really helpful because we have problems on a massive scale in Pakistan... we have a big catastrophe on our hands and we have a big trust deficit," said one of his employees, who did not want to be named. "A lot of Westerners who would come to help, now think twice about coming. A celebrity coming over is a symbol of trust and shows their support.... It's brilliant, it helps improve our image."
How she got started
Jolie toured a camp of 6,000 people, whom the employee described as living in "terrible conditions" despite the camp's proximity to Islamabad, the capital.
"She was very down to earth and friendly with the kids and interested in knowing about everything. She visited homes, she visited schools, and she chatted with the kids for almost half an hour. I talked to her about the health center, and she wanted to meet the families and displaced people."
Jolie may have joined the growing celebrity charity movement later than icons like U2's Bono, but she's covered serious ground since her awakening as a humanitarian activist a decade ago.
She developed an interest in humanitarian aid while shooting scenes for Tomb Raider in Cambodia back in 2000. The next year, she was named goodwill ambassador for the UN refugee agency, UNHCR.
Since then, the actress has visited more than 20 countries from Ecuador to Kenya to Sri Lanka, largely focusing on the plight of refugees and using her high profile to raise money for their causes - and donating millions herself, along with partner Brad Pitt.
Jolie, better known for her pretty face than pretty prose, recorded her journey into international activism in a 2003 book, "Notes from My Travels." For $10.30, you can purchase the diary-style account that begins simply, "I am on a plane to Africa."
She goes on to tell of how she defied her father, who tried to cancel the trip, and was warmed by her brother's suggestion to remember the words of Peter Pan - a favorite story of theirs - if she ever felt scared: "Look up at the night sky, find the second star on the right, and follow it straight on till morning."
In a review, renowned chimpanzee advocate Jane Goodall lauded Jolie's commitment to humanitarian causes:
"Angelina is living proof of the power we all have - every one of us - to make a difference," wrote Dr. Goodall. "I was deeply moved by her descriptions of individual refugees struggling to live with dignity and hope, and found her personal commitment to be an inspiration."
In Kosovo
In the afterword, Jolie calls the UN charter that underpins her refugee work "one of the most beautiful things I have ever read," and reminds American readers, "We can't forget that our founding fathers were refugees. And then the Native Americans became refugees."
On one of Jolie's first UNHCR-sponsored trips, she travelled to Kosovo, which was still recovering from the Yugoslav wars of the 1990s. One man with a very pregnant wife shared his worry that his shabby truck wouldn't make it through the mud when it was time for her to give birth.
But there were also success stories; she met what she described as one of the best de-mining teams in the world - and the only all-female platoon - responsible for finding and dismantling landmines. One of the woman started the work at age 15 after her father was shot in the war; another had a prosthetic limb after a mine accident.
While Jolie's writing is plain at best and often clunky there's a refreshing realness about it that reminds one she is far from the red carpet - such as this entry from December 29, 2002:
"Up for 8 am leave," she wrote in a journal posted by UNHCR. "Put on layers of clothes and grab a little coffee. Decide not to bother to take the mud off my shoes, it will only get dirty again."
The Christian Science Monitor