LONDON, Sept 11, (AFP) -The leader of England's Catholics said it was impossible to forgive paedophile priests who refuse to admit their crimes, in an interview out Saturday ahead of Pope Benedict XVI's visit.
Archbishop of Westminster Vincent Nichols, the head of the Catholic Church in England and Wales, said those who are guilty must face up to their actions.
Pope Benedict arrives in Edinburgh on Thursday and will visit Glasgow, London and Birmingham in central England before leaving on Sunday. Demonstrations about the abuse scandal in the Catholic Church worldwide are expected to take place during the first ever papal state visit to Britain.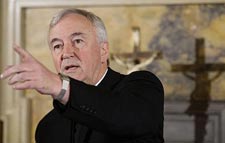 Vincent Nichols
"It is the most difficult thing in my lifetime. The abuse of children is the most hidden of crimes. It is profoundly devious," Nichols told the Daily Mail newspaper.
"It is so difficult to understand. It takes enormous courage to break the circle of silence, especially for the victims."Despite conceding that "priests are human beings and are prone to fail like everyone else", the archbishop takes a strong moral line, saying forgiveness over the paedophile scandal is tough.
"One of the things I have learnt is to be automatically less trusting of what people -- and that includes the priests -- say to me on this issue," he explained. Perpetrators can be forgiven "as long as I can sit down with a guilty priest and talk to him in a way that I know is honest and know he fully accepts what he has done and what the consequences are.
"But of priests who refuse to admit to their actions, he said: "It is just not possible (to forgive them). It can't be done unless there is a confession of guilt and sin."He added of abuse: "It is very hard for someone who has not been through the experience to know how deeply it cuts through the essence of being human.
"It cuts through the ability to trust, to love, and the sense of self. It is difficult to move on from being a victim."Speaking of his role in the pope's visit, the 64-year-old said: "I am not anxious. I trust the Lord. It will be a wonderful few days."