HAVANA, Sept 11, (AFP) -Cuban revolutionary leader Fidel Castro has insisted he was misinterpreted by a US reporter who quoted him as saying that the Cuban economic model "doesn't even work for us any more."Castro, who left the presidency in 2006, recently gave a rare three-day interview with a reporter from The Atlantic magazine and a Cuba expert from the US Council on Foreign Relations (CFR).
According to The Atlantic, which published its account on Wednesday, the 84-year-old Cuban revolutionary icon joked about the state of the Cuban economy. Castro said Friday he made the statement "without anger or worry. Now I'm amused to see how (the Atlantic reporter) interpreted it literally" in consultation with a CFR expert.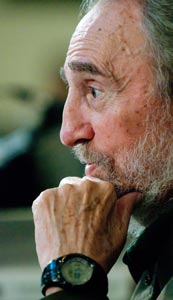 In this picture released by Cuban website www.cubadebate.cu, former Cuban President Fidel Castro attends the presentation of his new book "La Contraofensiva Estrategica" (The Strategic Counter offensive) at Havana's University on September 10. AFP
My answer, Castro said, "meant exactly the opposite" of what the reporter wrote, Castro said, speaking at an event presenting the second volume of his autobiography.
Castro said he was clear about Goldberg's intention when he asked if the Cuban model was still worth exporting: "It's obvious that implicit in the question was the theory that Cuba was exporting the revolution."In Washington, CFR expert Julia Sweig, who was present at the interview, told AFP on Friday that she had a different take on Castro's quote.
Castro "wasn't joking and when I heard him saying that, I took him to mean the economic model doesn't work anymore, not the revolution, not the socialist ethos, not the independence spirit, not you know, the revolution, just the model," said Sweig.When Castro "said the 'Cuban model doesn't even work for us anymore' he was almost making reference to that kind of 'fetishized' Cuban model. 'Oh, that doesn't even work for us anymore,'" Sweig said.
Cuba's feeble economy is currently propped up by subsidized oil from ally Venezuela. The government has launched minor reforms but no major structural change in an economy overwhelmingly controlled by the state.
Castro Friday did not explain exactly what he meant by his equivocal phrase, but stressed it was the capitalist system that was not working.
"My idea, as the whole world knows, is that the capitalist system no longer works neither for the United States or the rest of the world; it leads to one crisis after another, ever worsening, global in scope... and inescapable."