It was around 12.15 p.m. on Friday. Nawagamuwa Vigilance Committee chairman Ajith Welgama was driving his threewheeler to the Ambagaha junction threewheeler park when he saw a familiar-looking young woman in a red skirt walking towards a two-storey house nearby.
Her appearance rang a bell and suddenly realizing who the woman was, he wasted no time. He made two quick phone calls to two members of the vigilance committee, Nimalka Chandrawarsha and Susantha Bandara, and asked them to be on alert.
Less than six minutes later, Ajith got a call. It was Bandara. "She just left the house. She's now dressed in a blue jeans and white shirt," Bandara said. There was no time to lose. Ajith looked through his contact list on his monile and called up Nugegoda Superintendent Deshabandu Tennakoon,
After listening to Ajith's story, SP Tennakoon instructed him to stay where he was until a police team was sent to the Ambagaha Handiya Road where Ajith and his colleagues were waiting for the woman.
Acting fast, SP Tennakoon dispatched a police team headed by Mirihana Police Emergency Unit Officer in Charge Inspector Bhathiya Jayasinghe to the area.
Meanwhile, Nimalka and Bandara had managed to to engage the woman in small talk to prevent her walking away. "Where are you going?" Nimalka asked her. "I came looking for a friend's house – for rent," she told them. By now, Ajith too had joined them. He had stopped his threewheeler across the narrow road, blocking the woman's path.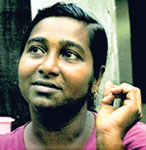 Nimalka
Ajith and his colleagues were careful not to let the stranger feel for a moment that they knew who she was. Instead, they pretended they were innocent of her identity and concerned for her safety.
"Three girls were raped in this area recently, didn't you know? It's not a good idea to walk around here all by yourself. You ought to be more careful," they told her, trying to start a conversation, buying themselves more time.
When they asked her if they could see her National Identity Card, she said she didn't have it on her.
"Where are you from?" they asked.
"Kaduwela," she said.
"Where about in Kaduwela?"
"A little further away from Kaduwela. Look , my husband is at the junction ahead. If you don't believe me, you can ask him about me. There's no need to be so suspicious of me," she said. They had hit the jackpot, Ajith realised. He sent Bandara to fetch the woman's husband to them.
Moments later, Bandara returned with a bearded man clad in a Dolce&Gabbana T-shirt and trousers. But before Ajith even spotted the man, he patted him on the back and said, "I'm the older brother of Thilak – you know, the owner of Thilak Hardware," he told him, casually and confidently.
"Who is that? I have never heard of a Thilak before," Ajith said. Although he had never heard of a Thilak before, Ajith knew very well who the bearded man standing in front of him was, but he made sure the man didn't realise that and asked him for his identity card too.
Predictably, he too could not produce an NIC. Just then, around one p.m., Inspector Jayasinghe and his team arrived in a 119 emergency vehicle. The woman panicked, and tried to make a run for it, but Nimalka held on to her. The man dropped all pretence and tried to bribe Ajith.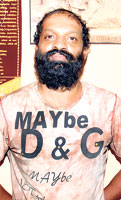 Sakvithi at the time of his arrest
"I will pay you any amount you like – lahks even, please let me go," he pleaded. But Ajith wouldn't budge.
Within minutes, both man and woman were in police custody. At first, the bearded man told the police officers that his name was Ranjan, but once inspector Jayasinghe started questioning the suspects, it didn't take them long to reveal their true identities:
They were Kumari Anuradhini (26) and her husband Abhayaranasinghe Mudiyanselage Chandana Weerakumara (38) alias Sakvithi Ranasinghe, the alleged notorious fraudster.
Sakvithi Ranasinghe, became a household name, when this former English teacher, allegedly cheated thousands of people of their hard earned money. In 2008, the Mirihana Police received 2013 complaints against this alleged fraudster who police say cheated people of over 1000, million rupees.
But Sakvithi, his wife and two children managed to evade arrest and flee to a foreign country.
Nearly two years later, the man who no one believed would ever be captured was apprehended by the police. On Friday, soon after the couple was arrested, after a quick search, police found that Kumari was in the possession of Rs. 50,306. In addition two Sri Lankan passports registered under their real names, a visa card in the name of Radha Thangawelu, an SIM, small scraps of paper with phone numbers scribbled on them and an Indian train timetable were found on the person of Sakvithi.
The house Kumari had visited earlier had been home to her parents for a long time. Even though it was a relatively big, two-storey house, it didn't look like one that belonged to a multi-millionaire. Located at 77, Horatota, Ransiri Uyana, according to neighbours, this was the first time Kumari had visited her parents after their reported disappearance two years ago.
Neighbours were baffled as to what could have prompted them to pay such a visit after all this time.
"I was taking a shower, when I saw through the window, Kumari running towards the gate. She knocked and her mother quickly opened the gate to let her in and as quickly shut it behind them. A few minutes later she was out of the house again," Irosha Priyadarshani, one of the neighbours told The Sunday Times.
Later that day the couple was handed over to the Criminal Investigations Department (CID) for further questioning.
From riches to rags
The saga of how he played billionaire with other people's money is now playing out in the fourth floor offices of the Criminal Investigation Department (CID) at the new secretariat building.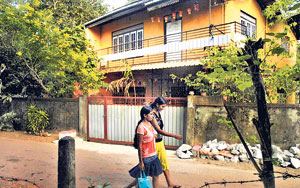 Kumari's mother's house in Nawagamuwa.
Sakvithi Ranasinghe told interrogators yesterday that he was now a pauper. Early this week, his children had gone hungry because he had no means of feeding them. He had asked his wife to borrow Rs 50,000 from her father.
He had been sacked from the school he attended for disciplinary reasons. When he began his finance company, he used moneys placed by depositors to bet at casinos. He told detectives that he was aware he was risking arrest but chose to return to Sri Lanka since he had no means to live.
Scams in Chilaw
By Hiran Priyankara
On his return to Sri Lanka earlier this year, Sakvithi Ranasinghe continued to live the life of a scam artist.
According to the police, Ranasinghe is alleged to have collected between Rs. 3,000 and Rs. 4,000 each from a number of persons, claiming he was starting a computer course in the Chilaw area.
He and his family stayed in two locations in Chilaw. In February, he moved into a house on Vijaya Road, and in May he moved to another house, on the Chilaw-Kurunegala road. His children are reported to have studied briefly at an international school in Nathandiya.