Samurdhi officers have resolved to continue their agitation campaign against Deputy Minister Mervyn Silva who ordered one of their officers be tied to a tree, after he failed to attend an anti-dengue campaign in Hunupitiya, Wattala.
Despite repeated statements by the Deputy Minister that the officer Mohammed Ishan Murshuk, volunteered to be tied, the All Island Samurdhi Development and Agricultural Research Production Assistant Officers Society has threatened to pull out from its services in the event the Government fails to take action against him.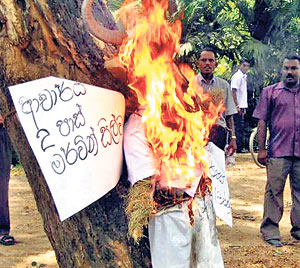 Ampara. Pic by Wasantha Chandrapala
"This is a disgrace to the public service. The law of the jungle cannot prevail for them. They need to carry out their duties with self-respect. Failing to take any action against the minister will force us to withdraw from our duties," Jagath Kumara, general secretary of the Samurdhi officers' society told the Sunday Times.
"We believe that the officer has been under threat as we have been unable to contact him and he has not been contactable," he said.
Mr. Murshuk has not reported for work to his office at Hunupitiya, Wattala since the incident, while his neighbours at the flats in Armour Street claim they have not seen him during the past few days.
However, the Deputy Minister insisted that Mr. Murshuk volunteered to get himself tied.
Explaining the circumstances, Mr. Silva speaking to the Sunday Times from his Park Road, Colombo 5 residence said 'I got a call the previous night. He told me that he wanted to prove that he was brave and told me to tie him to a tree. He wanted to show to the country there are honest officers who were willing to be punished'.
Mr. Silva had earlier told that in the event of a dengue related death in his electorate (Kelaniya) he will tie the relevant Samurdhi and Agrarian Service officers and the Grama Niladhari holding them responsible for the death.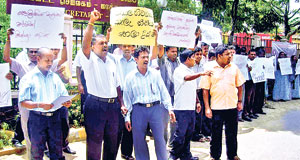 Matara. Pic by Krishan Jeevaka Jayaruk
Mr. Silva has promised to step down from his ministerial post if the officer concerned lodged a complaint. He blamed the JVP for carrying out street protests saying that it was JVP which brought the law of the jungle first.
"Which is the right thing? To have garbage everywhere or to get it cleared," he asked. "In the event there is a dengue related death the Government is blamed. Therefore it is also our duty to take action against negligent officers," Mr Silva added.
Several attempts by the Sunday Times to track down Mr. Murshuk failed. During a visit to his residence neighbours said they had not seen him at his home for the past few days while he was not present at the mosque he usually attends for Friday prayers.
Meanwhile local and international organizations have condemned the action by the deputy minister while some of the organizations have held protests in various parts of the country including in the Northern and Eastern provinces.