Sitting down for a two-day session with Sri Lanka's only global brand in a Colombo hotel this week, Paula Porukova from the Czech Republic opened a bottle of water and declared "this is fantastic country."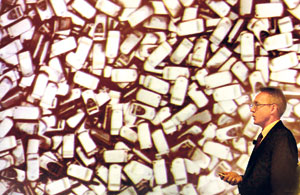 Andrew Ingles speaks with a picture of thousands of discarded mobile phones in the background. Pix by M.A. Puspakumara
Ms Porukova, a representative of the Czech Espresso company which is an agent and distributor for Dilmah Tea, was among dozens of overseas distributors who had gathered in Colombo from Europe, North America, Australia, Asia and the Middle East for Dilmah's once-in-two years' Global Distributor conference.
"This is an exciting place. I wish I had more time to visit," she said as distributors across the globe heard Dilmah's legendary founder Merril J Fernando and the rest of Dilmah family discuss a range of issues on tea marketing trends, production, new markets and the vitally-important element of sustainable businesses.
In fact it was at this conference that Dilmah added a 6th pillar – Sustainabilty - to its five ways of doing business, ie - integrity, quality, customs, ethics and tradition. And it was done in an unusual way: making a declaration from the podium and unveiling the declaration etched in granite stone on a grand 5-star stage – all aimed at providing an ethical tea product to consumers worldwide with minimal destruction to nature and human habitat.
More compelling perhaps was the presentation by Andrew Ingles, Head, Livelihoods and Landscapes, Asia at IUCN (the International Union for Conservation of Nature) which Dilmah is closely associated with as an ethical business entity and a growing partner.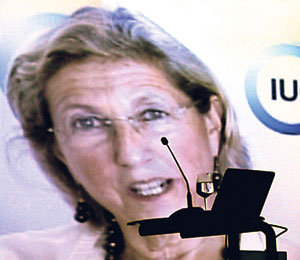 Message from IUCN Director General Julia Marton-Lefevre
Mr Ingles, in a presentation on how business (in general) and profit has ruined nature and the natural habitat, showed some moving pictures on how Planet Earth was being slowly destroyed through its natural resources, animals and other beings.
One illustration showed a family in the US and their food requirement for a week which was worth over $300 and in comparison showed a poor African family with bare needs and sitting in front of a week's supply of food which included one bottle of drinking water: the total value of this food totalled just $3!
Emphasing Dilmah's commitment to go beyond the unsung, social entrepreneurships strides that it has been involved in so far, founder Fernando said the Dilmah family was making a fervent declaration for the sustainability of the tea industry.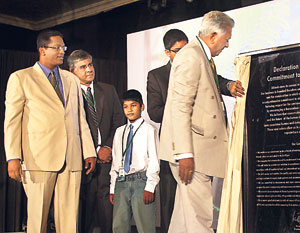 Merril J. Fernando, sons, grandson and Himendra Ranaweera CEO
"We want to demonstrate to the world that business is in fact a human service," he told the conference, in which his sons – Dilhan and Malik (from which the word Dilmah was coined many years back) – were heavily involved. Dilhan's son was also called on stage when the granite stone declaration was unveiled to mark three generations of the Dilmah family. Dilmah has taken the Ceylon Tea brand to new heights over the past two decades with the brand rubbing shoulders with the best global brands in international markets, and even leading in a few markets.
The foreign dealers and distributors were involved in a first-time-in-the-world 'School of Tea' concept where they were shown the plantations for two days followed by two days 'in the classroom' to learn how tea is made, packed, etc. Founder Fernando said Dilmah has taken the Ceylon Tea brand to the far corners of the world. "When I leave, my sons and others at Dilmah will take the product further to my wildest dreams," he said.
Marketing Director Dilhan Fernando said the group's social service arm, the MJF Foundation has set aside Rs 1 billion this year for a variety of projects that range from nature conservation, protecting the elephant to supporting livelihood development and empowering rural entrepreneurs.