Repeated pleas were made at a discussion in Colombo this week on the Indo Sri Lanka Comprehensive Economic Partnership Agreement (CEPA) for its draft to be made public, an issue that has drawn a lot of controversy in recent times.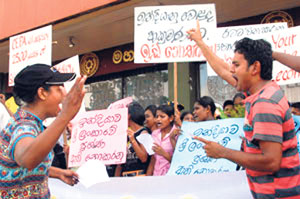 File picture of the CEPA street protest
One member of the audience also suggested the Indian government had already made its draft available to Indian businesses for their input, adding fuel to the fire. In recent times, sections of the Sri Lankan business community and professionals have expressed concern over certain services and other trades that are set to be included in the agreement which could be adverse to Sri Lanka, with such worries leading to a street protest some weeks back.
While there has been some re-assurance from government circles of an agreement that would balance the interest of both Sri Lanka and India, top corporate lawyer Kandiah Neelakandan, Senior Partner of Murugesu & Neelakandan, also told the meeting that the government should make the draft of the CEPA public, allowing chambers, professionals and other bodies to make better proposals which could then be incorporated in a future draft.
Speaking at a forum entitled "Indo Sri Lanka Comprehensive Economic Partnership Agreement (CEPA): Facts, Myths and Risks", organised by the Institute of Chartered Accountants of Sri Lanka in Colombo, he said it was because of secrecy surrounding the CEPA that most objections were being raised. He also noted that typically any reforms in this country, legal or otherwise, took a long time and that the public was seldom consulted.
Citing the Indo Singapore CEPA, which was signed in 2005 but which began negotiations at the same time as Sri Lanka's, he indicated that that agreement showed responsible safeguards; mostly outlining minimum investments required and Singaporean citizen directors on the boards of Indian ventures set up to trade in Singapore. He also added that Sri Lanka was in a better bargaining position than Singapore as well as being able to make use of India's tourism and IT potential. He also suggested that since the facts are not well know, Sri Lankans thought that India would attempt to conquer them.
He said Sri Lanka's trade with India, which was at Rs. 46 million at the time the free trade agreement was signed between the two countries more than 10 years ago, is currently at US$516 million and is expected to reach levels of US$ 1.5 billion by 2012, when the CEPA is expected to come into effect.
Mr. Neelakandan also noted that India was Sri Lanka's second most important partner in South Asia.
Meanwhile, according to another speaker, the founder of regional policy think tank LIRNEasia, Dr. Rohan Samarajiva, the framework for the trade of goods as highlighted by the CEPA was not the issue; the fight was about the services trade and the movementof people. He also noted that the CEPA's rules did not abolish immigration laws.
Dr. Samarajiva also indicated that to date India had opened up more than Sri Lanka and gave the example that there were currently more than 3,000 Sri Lankans in India on work visas. He also added that to get to the government's stated goal of 10% growth, service exports would have to grow, especially since services was a major component of the country's economy.
He was also of the opinion that the CEPA would be a good precursor to prepare Sri Lanka for the looming implementation of the South Asia Free Trade Agreement, since this agreement would not only help the country sell to India but also improve its own quality. A case in point was the decline of Sri Lanka's status as a traditional exporter of education. An example he posed was that more and more students from the Maldives ignored Sri Lanka in lieu of other countries for education.
Additionally, Dr. Samarajiva also noted that people skills were lacking locally as witnessed by recent AT Kearney rankings which placed Sri Lanka at number 16 while India was number 1. This difference was even though India and Sri Lanka had similar scores in two of the three criteria being ranked: business environment and financial attractiveness. The only area where Sri Lanka scored much lower than India was in people skills, which was becoming a bottleneck for the country. He further revealed that the local outsourcing operation of HSBC, which planned to hire a total of 4,000 employees, was not able to fill available slots because of lack of qualified people.
The final speaker at the forum, Dr. Manuj Weerasinghe, of the University of Colombo and the Sri Lanka Medical Association's CEPA Sub Committee, revealed that 25 to 30 categories of paramedical professionals were to be included in the CEPA. He further suggested that India was asking Sri Lanka to "undertake additional commitments to recognise the qualifications of Indian medical professionals". It was also his opinion that the CEPA was being put in place to bypass a number of health laws including those associated with the quality control of pharmaceuticals (CDDA No. 27 of 1980) and the monitoring of the private health sector (PMIR - No. 21 of 2006).