Sri Lanka's own KumbukRiver has joined Dubai's landmark Burj al Arab and the Galactic, the first-ever hotel in space, in a list of the world's top 20 most unusual hotels, just announced by an international portal dedicated to the unusual and the audacious.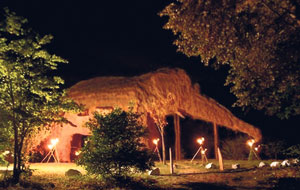 Nestled on the banks of a lively river on the edge of Yala, KumbukRiver, a 16-acre eco-resort in Buttala, is Sri Lanka's highest-awarded tourism brand and continues to be in the eyes of the world media, the local company said. Made famous by a 40 foot-tall, two-storey eco-villa in the shape of an elephant, KumbukRiver has won a travel Oscar as the world's leading eco-lodge at the coveted World Travel Awards. This spectacular and exclusive up-market eco-lodge also includes two other chalets in its sprawling location.
Now KumbukRiver has joined 19 other amazing hotels ranging from the world's most costliest and dazzling to the most audacious small wonders. The majority in the hot list is from Europe and USA while only Sri Lanka and Japan figure from the Asian continent with Japan's famous high-tech "Capsule" hotel taking the honors for Asia along with KumbukRiver.