With Bollywood biggies staying away from the International Indian Film Academy (IIFA) ceremony in Colombo this weekend due to protests by actors and film makers from Tamil Nadu, the annual glamour event turned damp.
While the absence of IIFA brand ambassador Amitabh Bachchan might have been the biggest setback for organisers, Sri Lankan President Mahinda Rajapaksa's presence seemed to have somewhat made up for the lack of lustre.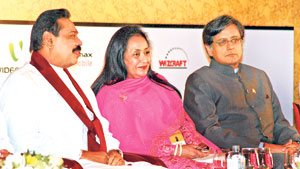 From Left to Right: President Rajapaksa, Lalit Suri Hospitality Group Chairperson Jyotsna Suri and Indian MP Dr. Shashi Tharoor. Pic by J. Weerasekera
While addressing Sri Lankan and Indian business enterprises at a meeting organised by the Federation of Indian Chambers of Commerce and Industry (FICCI) at Colombo's Hilton Hotel on Friday last, President Rajapaksa asked Indian companies to invest in sectors such as infrastructure, agriculture and manufacturing.
"There is of course undue pressure still being exerted on Sri Lanka by some elements that supported the LTTE," President Rajapaksa told the business forum where Indian Parliamentarian and former junior foreign minister Shashi Tharoor was also present.
President Rajapaksa presented Sri Lanka as a country with one of the world's lowest levels of unemployment at 5.7 per cent and with uninterrupted supply of electricity. He also lauded his own government for having - in his opinion - handled problems of the Internally Displaced Persons (IDPs) and former LTTE cadres. "What we have achieved in terms of rehabilitation of those misled youth, and the resettlement of the IDPs, is far superior to any such exercise anywhere in the world," President Rajapaksa said.
Tharoor focussed his speech on the importance of Indo-Lanka relations in the post-war era and Indian high commissioner Ashok K. Kantha said that Sri Lanka could now work on "enchasing the peace dividend." However, without mentioning the Comprehensive Economic Partnership Agreement (CEPA) which has seemingly become a contentious issue for entrepreneurs in Sri Lanka, Kantha said, "today, what is required is a new vision for India-Sri Lanka economic engagements." While CEPA is expected to be discussed at President Rajapaksa's meeting with Indian Prime Minister Manmohan Singh in New Delhi this week, indications from both governments suggest that CEPA is unlikely to be operationalised anytime soon.
While big Indian companies such as the Tatas, Ceat, Indian Oil Corporation, Nicolas Piramal, Airtel and Ultratech have already invested in Sri Lanka, majority of delegates at the FICCI-IIFA business forum were from small and medium Indian enterprises. But while Sri Lanka's Board of Investment (BoI) was scouting for potential Indian investors in tourism and real estate sectors, very few among the 50-odd business delegates from India for the FICCI-IIFA business forum, were actually from those sectors.