Jayantha Silva's 'Expressions of Sri Lanka', an exhibition of paintings will be held at the American Centre from May 17 to June 11, from Monday - Thursday 9 a.m. – 5 p.m. and on Fridays from 9 a.m. till noon.
The war is over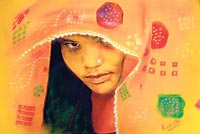 Curious
As a child Jayantha Silva won many awards in art competitions. In one particular competition, he won the First, Second and Fourth Prizes.
He so impressed the judge renowned artist Mudliyar Amarasekara that he offered Jayantha a one year scholarship to his art school. Unfortunately, as a child, Jayantha felt that one does not need to learn art formally, and did not take the scholarship, a decision he regrets.
Once out of school, Jayantha took to commercial art, working in leading agencies such as Zenith Advertising, Intersel Advertising, Nadarajah Press and Vision Advertising. He started his own advertising company, Impetus Limited, in 1981.
Nine years ago, at a time when business was depressed, and he had time on his hands, Jayantha decided to return to his childhood love of painting. His first work was a mother and child. His talent had not diminished, but blossomed and matured. Jayantha would paint on weekends and his first exhibition "Expressions" held at the Lionel Wendt Art Gallery in June 2003, was a resounding success.
The same year, the Lighthouse Hotel in Galle, invited him to have an exhibition at the hotel, in a gallery created specifically for him and as a result of this exhibition Jayantha was awarded a prestigious commission by the Tea Board, to do a 6'x11' "Reception back" to be gifted to the Airport and Aviation office in Katunayake.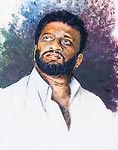 Self portrait
Jayantha's second exhibition "Expressions 2" was held in June 2004 and over the years, he has continued this series. "Expressions 6" was held at the Lionel Wendt gallery in March 2010 and he was delighted when the US Embassy invited him to exhibit at the American Centre in May 2010. For this he has created many new additions especially to go with Sri Lankan theme -- "Expressions of Sri Lanka". Jayantha's style is one of realism - his forte - painting the human figure.
"For me it's the tremendous satisfaction of watching something materialise on a sheet of paper in front of me. Creating art can transport you to another world. For me this has become an addictive and rewarding ritual," he says.