Colombo is becoming more daring in its titillations of the taste buds. The mad month of May began with three international chefs wooing Colombo with Mediterranean marvels.
A family stands. A child cries. A father says, "I told you we should have come earlier!" It is Hilton Colombo's Cyprus Food Festival at Spices and it is sold out. Those who didn't reserve, crowd around, waiting for a table to liberate. But those who had reserved were in no hurry to relinquish their places or curtail the pleasures of the pulsating ambience the event generated, what with the serenade of mellifluous Cypriot strains, a large TV screen capturing vignettes of traditional Cypriot life and culture and, of course, the live Cypriot troupe dancing away. They managed to involve a sporting crowd in balancing acts and dance lessons.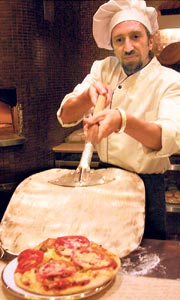 Italian chef Jacopo serves up a pizza.
Those uninterested in dissipating energy revitalised themselves from a staggering buffet. Whilst meats and seafood grilled, skewered and roasted to the tune of Greek music I was preoccupied by an excitement of salads. The guest Cypriot chef tells me enthusiastically, "We use much olive oil, olives and herbs in our cooking" and proceeds to demonstrate.
France might be cheese country, but the Greeks surely have a monopoly over grilled cheeses. Grilled haloumi comes in cubed salads or in juicy chunks which enchant you until baked feta on a bed of herbed tomatoes beguiles you away.
This, Chef explains, is served traditionally with sesame bread, which he provides. But I must confess a partiality for his olive loaf and olive baguette which complemented white-wined potatoes and tzadziki.
There were also several Mediterranean grilled veggies and rice dishes to sample. Tomato rice tickled me. If you didn't quite make the fiesta or the occasion's other countless delights find out when Spices is next hosting one such food promotion and make a date.
The Taj's culinary baton proved yet again that nobody confects cardboard like they do when they wrapped the entrance to Latitude in a colossal replication of Rome's Coliseum whilst a dwarfed Leaning Tower of Pisa spurted out of a pond. I discovered a similarity with visiting Italian Chef Jacopo: we winter annually in India, returning to Europe when climes are civilised; but unlike Jacopo I don't own an Italian restaurant in Goa.
If at Latitude's Italian Fest I expected homemade pasta it wasn't there- Chef Jacopo explains the difficulties thereof on a buffet. However, he prepared me mushroom bruschetta and spinach and cream tagliatelle, light, unlike Colombo's usual "Italian" sauces so obdurate you can slay them with a sword. Chef smiles that many boast how Italied-out they are but when presented al dente pasta they complain that it's raw…
Jacopo's Colombo counterparts supplemented the buffet with an endearingly local interpretation of Italian cuisine including shredded cheese in pesto and chocolate cheesecake, which I haven't encountered in Italy, but they were nice… I spend two months/year in Italy outside which I've almost never found acceptable Italian food (like all simple things, difficult to perfect). But for Colomboites with palates less pernickety than mine, this is mama mia!
That is one's reaction with regards the sheer quantity of The Dining Room's Dieta Mediterránea. But overwhelming variety is Cinnamon Lakeside's forte. This time the buffet pays homage to the entire Mediterranean: Italy, Spain, Greece, Morocco, Turkey, France. Spanish Chef Tarrago Sole oversees a crazy range of native specialities: Spanish garlic soup, tortilla, Andaluza-style squid, Salmorejo tomato, beef stew Fricandó, Madrid Zarzuela mixed seafood, Chicken à la Catalana etc etc.
But expect also innovations from local chefs including orange and potato salad, seafood and octopus. Classic favourites yet hold sway with lasagne, cannelloni, moussaka, cauliflower and asparagus gratin. Rice lovers avail of Risi Bisi, seafood paella and vegetable risotto. Sizzle comes in Turkish lamb kofta. But keep room for sweet endings seemingly never-ending… Amaretto cheesecake, Baklava, Om Ali, Mahalabia, Churros, Kataifi. But whilst contours melt in a changing world I remain uncertain as to how Norwegian fresh salmon with champagne cream sauce counts by any stretch of geographic imagination as Mediterranean cuisine.