Mr. Alexander af Jochnick the founding family member of Oriflame made his first visit to Sri Lanka to commemorate the rapid growth in sales and during a press conference held on the 26th of April 2010 at the Mt. Lavinia Hotel he shared with the media the ground breaking news on Oriflame's future expectation strategy in Sri Lanka. Mr. Jochnick who is a board member of Oriflame Cosmetics is not only a representative of the founding family but is also its largest owner.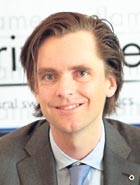 Oriflame founder family member and member of the Board, Mr. Alexander af Jochnick
He is currently the Managing Director of Credus Mgmt which is a Jochnick family office. His other current positions include being the founder of Serious Nature, Board Member of Cibes Lift, NCAM and Chairman of R12 Capital's Investment committee. In addition to Mr. Jochnick, Mr. Fredrik Widell, Regional Director of South Asia - Oriflame Cosmetics and Chairman of IDSA (Indian Direct Selling Association), Mr. Pierre Martensson, Managing Director of Oriflame Sri Lanka and Mr. Stefan Karlsson, Senior Vice President, Asia - Oriflame Cosmetics was also present at the conference.
Commenting on the current progress of Oriflame Sri Lanka Mr. Martensson said, "Since our inception of Oriflame in Sri Lanka in 1997 we have experienced a rapid progress especially within the past few months. We have opened up an office in Jaffna and are looking forward to securing more untapped markets in the North and East areas of the country.
Although Jaffna is quite a different market when compared to Colombo the purchasing power of the communities in the North and East areas are extremely high and therefore it is our goal to speedup our expansion drives in these parts of the country.
Currently we have 22 Consultant Service Points operational throughout the island, through these service points we have been able to provide our customers with exceptionally high service levels as we have the very best trained beauty consultants providing their services. In the future we also hope to expand our product range with regards to the gents market as well.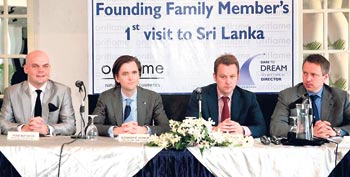 Seated at the head table from left to right are - Oriflame Lanka Managing Director, Mr. Pierre Martensson, Oriflame founder family member and member of the Board, Mr. Alexander af Jochnick, Oriflame Senior Vice President - Head of Asia, Mr. Stefan Karlsson and Oriflame Regional Director (South Asia) and Chairman of the Indian Direct Selling Association (IDSA), Mr. Fredrik Widell.
The men's cosmetics industry is however in its early stages in Sri Lanka but in the future we are very positive that this area too will experience a boom."
Penetration per say Oriflame has been very successful in Sri Lanka. Currently Oriflame operates in 62 countries around the world.
Out of all the Asian markets India is at present the most successful for Oriflame whilst Russia is the number one success with regards to the European markets.
Expressing his views during his visit Mr. Jochnick said, "In the future we are looking forward to improving our products and services in Sri Lanka. On average Oriflame has recorded an annual growth rate of 17% consecutively for the past 20 years which we feel is a very impressive rate of growth.
As we expand we hope to regionalize our product range as well but we are very strict with regards to maintaining the same quality the world over. Although we service the upper segment of the market our prices are quite affordable which is why we have become so popular in Sri Lanka."