Nivasie Developers (Pvt.) Ltd. started its business operations in the year 2000 with its flagship project Nivasie Pura which became a great success and took the property development industry by storm. Later on the company pioneered many other housing projects which were also equally successful, these includes.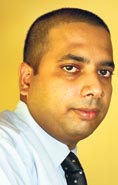 Dilan Senevirathne
The Nest, Hill Crest Estate and the Victoria Range of Bungalows etc. Another reason why Nivasie projects have become so popular among many is the company's focus on developing eco friendly housing solutions to the market. The Sunday Times Free Hold Supplement spoke to Mr. Dilan Senevirathne, Assistant General Manager of Nivasie Developers to reminisce their decade of success in the industry.
"This year we are proudly completing 10 years in the industry and as always we have kept our promises to our customers by providing exceptional and trustworthy service standards. Our customer base comprise of existing clients which in itself is a very powerful indicator of our ability to deliver nothing but the best with regards to the modern day housing needs of the customer", says Mr. Senevirathne.
Owning a house for many is a lifetime investment therefore if a developer is unable to deliver the very best of standards they will not be able to survive the current competitive and highly demanding market conditions. As Nivasie Developers is a subsidiary of International Construction Consortium which is a leading construction company both locally and internationally the company has the expertise to expose customers to new concepts and designs with regards to housing solutions. With the Go Green concept also becoming immensely popular with many Nivasie's eco friendly housing solutions are very much in high demand.
In conclusion Mr. Senevirathne said, "Nivasie Developers have always prided themselves in having the upper hand in planning ahead of others in the industry which has been one of our key strengths. The company's eco friendly housing solutions are a very good example of this.
To prosper in an industry as such as this for the past ten years is ample proof of our capabilities and superior service levels. We are proud of our achievements and look forward to the future with new hopes in which we hope to pioneer many more innovative housing solutions towards the betterment of the industry."
With all the implemented innovative housing solutions now Nivasie is operating Kandy Victoria Range. Victoria Range is one of the flagship projects of Nivasie which caters to a different segment in the market.