"Water is life, water is beauty and water is the start of civilization and then comes protection from elements. Put up the cottage of your choice and your choice has to be within the life giving elixir that is water" said Mrs. Sandamini Perera, CEO/Director of Prime Lands as she explains their latest introduction, to the Sunday Times Free Hold supplement.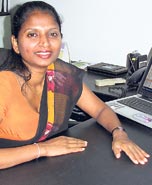 Mrs. Sandamini Perera, CEO/Director of Prime Lands
Prime Lands (Pvt.) Ltd. being true to its theme finds you a better place on earth. Thus making an introduction of another enticing product, by its very name LAKE RIPPLES at Ratmalana by the waters of Bolgoda. This offer is made to a fortunate few who would have the choice of facing the Bolgoda banks where water ripples all along the day and night.
The Lake Ripples is a spread of 03 acres of picturesque land in a salubrious climate, yet within half an hour's drive from Colombo. These two acres consist of nine blocks embracing the frills of the Bolgoda banks which will also give a very rare opportunity enjoying the benefits of the margin (reservation) between the lake and the land. Yet there are four blocks which are also within very close proximity.
This is an ideal location for your second home or a holiday spot. If not, for a private guest house within the location to be spotted with chalets to suit your dreams.
Lake Ripples offers all the modern day infrastructure facilities such as water, electricity, drain facilities and tarred roads etc. The land blocks facing the Bolgoda Lake are 20 perches and are priced at Rs. 395,000/- per perch and the remaining blocks are 10 perches and priced at Rs. 235,000/- per perch.
The advantage of owning a block of land facing the Bolgoda Lake is that the occupant is automatically entitled to an equally large reservation area for their private use. All lands have been developed according to UDA and Environmental Authority rules and regulations and therefore are safeguarded from flooding and other types of natural hazardous situations.
"Lake Ripples will have a gated community concept and will include its own security for the benefit of its occupants. The lake enables occupants to indulge in not only its natural surroundings but also enables them to enjoy in many water sport related activities", further stated Mrs. Sandamini Perera.
Prime Lands (Pvt.) Ltd. have temporarily shifted to a new premises two blocks away from their original office premises as the old office is to be demolished and a new nine storied modern office complex is to be constructed for the convenience of clients.
Prime Lands in addition to its own loan system will also be assisting customers to get the necessary bank loans and other banking facilities. Also according to Mrs. Sandamini Perera, this will be the right time to invest in projects as such as the bank interest rates are quite low.
In conclusion Mrs. Sandamini Perera said, "Spotting a land at such a scenic location at a competitive price scheme as such as this is quite a rare opportunity. Our market success is mainly due to our ability to provide customers with the correct land and pricing them at the realistic prices. In the future we hope to offer new projects in the areas of Horana and Malabe."
Apart from all these, remember this is an offer from PRIME LANDS (PVT) LTD -YOUR TRUSTED REALTOR.