It is no secret that opportunities for Sri Lankan students who seek admission to local universities in highly competitive streams such as medicine are severely restricted due to logistical reasons, even though there is a need for more doctors.
Therefore, students who perform reasonably well at the local A/Ls but fail to secure a place locally have no option but to seek admission to a foreign university, if they aspire to pursue a course in Medicine. Thus, the number of such students who proceed abroad for medical studies and come back with foreign medical degrees has increased tremendously during the past two decades.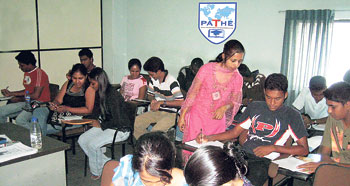 As the degree obtained by this Foreign Medical Graduate (FMG) is merely a certification of successful completion of a specified course of studies in the field of medicine in most countries, it does not obviously empower the degree holder to practise medicine in Sri Lanka. It is a statutory requirement that all doctors who wish to practise medicine, including the FMGs, register with the Sri Lanka Medical Council (SLMC) prior to starting work; a policy that prevails in all countries in the world.
A system is now in place to absorb these qualified doctors into the country's medical cadre after an examination which evaluates their factual knowledge, skills and their suitability to practise medicine in Sri Lanka as the training they receive in overseas medical schools is not uniform and at times lacks local flavour.
Towards this end, the Sri Lanka Medical Council (SLMC) conducts an Examination for Registration to Practice Medicine in Sri Lanka (ERPM) - (Formerly Act 16) in conjunction with the University Grants Commission (UGC) which the foreign graduates have to pass if they wish to practise their chosen discipline in this country. However only the FMGs graduated from medical schools recognized by the SLMC are allowed to apply for ERPM. A list of such recognized schools is yearly updated and available free of charge to the public at the SLMC.
PATHE Academy www.patheacademy.org, the leader in private medical education in Sri Lanka, in consultation with former ACT 16 examination staff and senior consultants in the relevant fields has come out with a programme to guide those who intend to sit the ERPM. PATHE Academy, conveniently located at Liberty Plaza, No: 250 2/1, R.A De Mel Mawatha, Colombo-03 (Telephone: +94 11 2575861) has prepared a comprehensive programme taking into consideration the guidelines of the SLMC and the sole purpose of having the ERPM examination.
The programme is basically designed to impart sufficient knowledge of the basic sciences and underlying disease to candidates in addition to training them on the rational approach to clinical problems, sound reasoning, critical thinking and decision making, which are all very useful in arriving at a reasonable differential diagnosis and meting out appropriate treatment.
In addition to the scientific input, these young doctors will also be trained on developing proper communication skills and also about the necessity to protect patient's rights and their dignity wherever possible.
Arrangements are already underway by PATHE Academy to commence a preparatory programme on July 26 2010 and special inducements are on offer to those who register before June 25.
Those interested could register by phoning any student advisor or by logging on to the PATHE website www.patheacedmy.org.
The Project Coordinator is available on +94 773104240 or simply write to admissions@patheacademy.org