Dissanayake Mudiyanselage Jayaratne, 'Di Mu' to most who know him, was the fourteenth Sri Lankan to be appointed as Prime Minister, continuing a recent tradition of a senior and trustworthy party faithful being appointed to the largely ceremonial post.
For a person of modest origins, it has been a remarkable political journey and Jayaratne is now the proverbial heartbeat away from the Presidency. Yet, that high office has never been his ambition.
Without doubt, Jayaratne's forte was his loyalty. He had made it well known over the past few months that, at 78, he was the oldest surviving founder member of the Sri Lanka Freedom Party (SLFP), having been inducted as the thirteenth member when the SLFP was formed by S.W. R. D. Bandaranaike in 1951.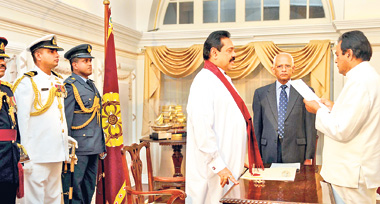 D. M. Jayaratne being sworn in as Prime Minister on Wednesday at Temple Trees.
Jayaratne may not have harboured Prime Ministerial ambitions then. Instead, while being a young activist for the fledgling SLFP, he took up work first as a teacher at his old school, Doluwa Maha Vidyalaya in Gampola. Thereafter, he served as Post Master at the Doluwa post office.
His first foray into national politics was in 1970 when, like President Mahinda Rajapaksa, he contested the general elections and was successful-although he barely scraped through from the Gampola electorate with a majority of just over 1,200 votes over his United National Party (UNP) rival, W.P.B. Dissanayake.
In Parliament, Jayaratne the young backbencher was a staunch ally of Prime Minister Sirima Bandaranaike and then Agriculture and Lands Minister Hector Kobbekaduwa and took on the opposition with relish, lambasting the likes of J.R. Jayewardene from his third row seat with fiery oratory.
On one occasion, after being at the receiving end from Jayaratne for over an hour, an irate Jayewardene retorted: "Garu Kathanayakathumani, Gampola manthri thuma ethuma niyojanaya karana Gampola aasanaya wagemai. Ay palathey hariyata gorawanawa - numuth wahinne kalaathurakin" (Mr. Speaker, the MP for Gampola is like the constituency he represents. There is a lot of thunder there, but it rarely rains!)
In 1977 though, Jayewardene's UNP landslide stole Jayaratne's thunder. Di Mu, again like Mahinda Rajapaksa, lost his seat and was out of Parliament for the next twelve years. His erstwhile opponent W. P.B. Dissanayake had beaten him by a majority of 6,200 votes.
He returned to the legislature in 1989 with a bang, securing the highest number of preferential votes from the Kandy district, but he had to wait another five years to become a Minister in an SLFP-led government headed by Chandrika Kumaratunga, handling the portfolio of Agriculture, Food and Co-operatives.
His tenures as a minister -- at various times, in charge of Posts and Telecommunications, Plantation Industries, Upcountry Development and Rural Industries Development -- were not spectacular. Yet, he was not tainted with the labels of scandal, inefficiency or corruption.
As a senior Parliamentarian, Jayaratne was much loved for his impish sense of humour and ready smile. He regaled his party men and the opposition with his gruff voice and his ability to break out into verse at the slightest provocation.
Di Mu never lost hope about fulfilling his ambition of becoming PM. In 2004, he expected to be given the honour as the senior-most SLFPer and admitted that he had even stitched his suit for the swearing-in, but was over-looked when Mahinda Rajapaksa was given the job by Chandrika Kumaratunga.
When Rajapaksa himself became President a year later, Jayaratne made his claim again, putting up posters in Kandy saying 'janapathi ruhunin, agamethi kandu ratin' (The President from Ruhuna, the Premier from the hill country'). Rajapaksa opted for Ratnasiri Wikremanayake instead.
Jayaratne was disappointed. In fact, he said so publicly but without a hint of malice, claiming that he had made yet another sacrifice for the SLFP. It was a tactic that paid dividends and in 2010, his seniority could no longer be ignored -- he was third time lucky.
Jayaratne's task as Prime Minister is not really challenging. The ruling United Peoples' Freedom Alliance (UPFA) commands an absolute, near two-thirds majority in Parliament, the President is extremely popular and the Opposition is hopelessly divided. In his new job, where the Ministry of Buddha Sasana and Religious Affairs is the icing on the cake, Jayaratne can afford to sit back and relax after years of hard grind as a vociferous parliamentarian.
Jayaratne shares many traits with the only other politician from the hill country to become Prime Minister, Dingiri Banda Wijetunga, the co-operative inspector turned Premier. Both were unassuming men and both were Ministers of Posts and Telecommunications. More importantly, both were chosen to be second-in-command for the same reason: they were loyal servants to the ruling party and they posed no threat to the Presidency.
Wijetunga made it to the very top, though by accident, not by design. Jayaratne is under no such illusions. After his swearing-in he acknowledged that he did not know how long his tenure would be. Already, there is speculation that he is only an interim PM, until Rajapaksa's second term begins in November. Jayaratne himself is not shy to talk about it: "I will go whenever I am asked to by the President", he says.
Even if that happens, it won't be an issue for Di Mu. He may shrug it off in the same manner that he dismissed queries about the famous suit that he had stitched anticipating the premiership. That suit was out-dated and he wore a new one for his actual swearing in, Jayaratne says.
Such simplicity and honesty has got Di Mu to where he is today. Whether he remains there or not, Di Mu Jayaratne will leave politics having fulfilled his lifelong ambition: that of being Prime Minister 'at least for a day'.