Negombo hotels are filling fast with stranded tourists waiting for the first Europe-bound flight out of Katunayake, but most of them have exhausted their holiday budgets and have no money to pay for hotel rooms and meals. Hotels are being forced to accommodate them at discount rates and under special offers.
| | | |
| --- | --- | --- |
| | | |
| Dominique Oyarzabal | Delphine Cheveau | Patricia Bedeau |
According to Deva Peter, president of the Negombo Hoteliers' Association and managing director of the Golden Star Hotel, Negombo, hotels and guesthouses in and around Negombo have been receiving a steady flow of guests after flights to Europe were cancelled last week. The majority of the stranded tourists are from France and Britain.
But what should have been good news for the hoteliers, who were hoping for extra revenue, has turned out to be an embarrassment for both the hoteliers and the guests, many of whom have no money left to pay for their accommodation. Many of the tourists say the airlines have not been helpful, while some moan that they have had little or no help from their respective embassies.
"Airlines are paying only the first day's bed and breakfast for passengers," Mr. Peter said. "Most of the tourists have used up all their holiday spending money. They have no cash for another one or two weeks' stay. They are begging for discounts. Most of the hotels have been forced to give special offers and discounts."
Mr. Peter estimated that there are more than 1,000 stranded foreigners in the Negombo area.
Some visitors have had to move to smaller tourist resorts outside Negombo.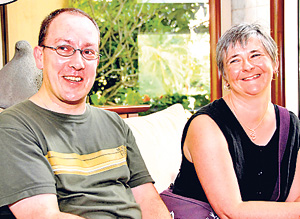 Dr.James Cavet and his wife
Tourists in Sri Lanka and Sri Lankan travellers overseas are among the thousands of stranded passengers around the world who have been inconvenienced by the ongoing air travel crisis.
Major airports in Europe, including those in Frankfurt, London and Paris, have been forced to cancel flights or temporarily close down because of ash clouds from a volcano beneath Iceland's Eyjafjallajokull glacier covering the airspace over Europe.
The crisis has put thousands travelling on limited holiday budgets in a tight spot. Jim Cavet, a doctor from Manchester, in the UK, and his wife Jennifer have completed a two-week holiday here, their first visit to Sri Lanka. They were due to fly on April 18.
"The airline has given us a May 10 flight date," Dr. Cavet said. "That's almost two weeks away – that's a very long wait. My wife teaches at university and I'm attached to a hospital. It's important that we both report back to work as early as possible. We have informed our workplaces. We can't wait that long. Our plan is to get a transit flight to Dubai and then fly to Newcastle, England, and from there take a train to Manchester."
Delphine Cheveau, from France, has been stuck at the Taj Airport Garden Hotel, in Seeduwa, since April 18, the day she was due to fly back home. "I have used up all my cash on hotel accommodation, and now I'm forced to manage on my credit cards," she said. "I come to the Katunayake airport every day, hoping to catch a flight."
She said she has been in touch with the Sri Lanka French Embassy, but has had no clear information or help from the embassy. She said the embassy response has been very disappointing.
"I see a lot of British High Commission officials coming to check on UK-bound passengers, but not a single person from the French Embassy has turned up to help those of us who are trying to get back to France," she said.
Dominique Oyarzabal and Patricia Bedeau, also from France, said the euphoria they felt after a very enjoyable tour of the country had been spoilt by the enforced delay. Mrs. Bedeau is worried about her two school-going children. "This was a well-planned holiday, and we were all looking forward to going back on the 19th. My children are waiting for me," she said.
| | |
| --- | --- |
| | |
| Roy Michel | Bruno Jautee |
Bruno Jautee and Roy Michel, also from France, were to leave on April 16. "Most of us have used up all our cash and we are surviving on our credit cards", said Mr. Jautee, while Mr. Michel worried about the elderly tourists, many of whom brought a limited stock of their medicines, some of which are not available in Sri Lanka.
The Sunday Times also spoke to several Sri Lankans who were inconvenienced waiting to get back home after a trip overseas. Twenty-two-year-old Arunodha Gunawardene and other family members went to England for a week to see her sister.
"My visa ended on April 19, and I was overstaying. My budget was for a seven-day visit, and most of my extra money went on shopping." She said she was anxiously following the flight updates at Heathrow Airport.
A lady doctor attached to the National Hospital in Colombo flew to England for her postgraduate examination, leaving her six-year-old child with her parents. She said she was among hundreds of Sri Lankans stranded in the UK. "Some had booked into tiny hotels that gave only bed and breakfast. The lucky ones stayed with relatives and friends."
The Sri Lankan Embassy in London told her she would be given a visa to Rome, but that she would have to buy a separate return ticket from Italy.
"Return tickets from Rome cost around 500 pounds, but I was told the price had gone up to 2,000 pounds. This must have been because of the air traffic crisis."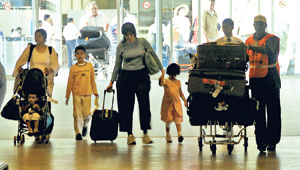 Sri Lankans were among the thousands held up by cancelled flights in Europe and the UK.