Sri Lanka's first post-war Parliamentary general elections were held last Thursday with an abysmally low turnout of voters. While at the time of writing this report on Saturday afternoon, the official percentage of voters who cast their votes was unknown, independent observers estimated it to be between 50 and 55 per cent of the total 14 million plus registered voters (island wide).
The nodal agency for conducting polls – the department of elections – had marked the turnout at 76 per cent during the last general elections of 2004. In a statement released last Friday, the Centre for Monitoring Election Violence (CMEV) said, such a low turnout (55 per cent) was last witnessed in the Presidential election of 1988. "This could be the lowest turnout figure in recent history as most Presidential and general elections have had an average of 65 to 70 per cent."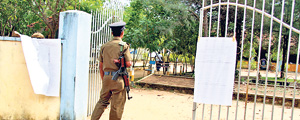 A polling centre in Puttalam. Pix by Hiran Priyankara Jayasinghe
As voting closed at 4 p.m. on April 8, the CMEV said that its observers had recorded 84 major and 202 minor incidents of poll-related violence and malpractices. Rohana Hettiarachchi, executive director, People's Action for Free and Fair Elections (PAFFREL), said, his organisation was "concerned about the relatively low turnout of voters."
Rauff Hakeem, Opposition candidate from Kandy where elections have been annulled and re-elections have been called due to alleged malpractices, told the Sunday Times, "The low turnout shows peoples' lack of faith in the credibility of the electoral process."
Independent and random visits by the Sunday Times to polling centres in Colombo on April 8 also seemed to suggest the low turnout. Thrustan College in Colombo 7 for instance had witnessed only 50 per cent turnout of the total 1535 registered voters at around 2.30 p.m. on the day of elections. While the turnout was 40 per cent of a total registered voters of 1268 at around 3 p.m. at the Ramakrishna Mission School in Wellawatta.
But apart from the apparent lack of enthusiasm in the process to elect members of the seventh Parliament, the other telling aspect of the recent polls was the rise of invalid votes. A random selection of electoral divisions in different districts would show that invalid votes ranged from 1283 in Colombo West to 6606 in Colombo Central. But the deficit was wider when results of entire electoral districts were considered. For instance, 53,000 invalid votes were recorded in Kurunegale district while in Matara district, the difference between votes polled and valid votes was about 20,000. Following the 2004 general polls, the department of elections had rejected 5.46 per cent votes as invalid. That was then against a total of 12 million plus registered voters (island wide).
Analysts tend to think that votes often turn invalid either due to sparse knowledge among average voters about this country's complex system of voting or their outright rejection of all available choices of people and political parties. This analysis is of course made in the assumption that malpractices have not taken place. A ballot paper would become invalid when the voter had either not marked the political party or independent group or has marked more than three preferences against the numbers of candidates mentioned at the bottom of the paper. For instance, a typical ballot paper used in any of the polling centres in Colombo district last week, would have been about two feet and two inches long with 42 political parties and independent groups listed on it.
At the bottom, there would be a list of numbers from which the voter would have to choose his three preferences of candidates corresponding with the party or independent group, he/she would have voted for. The onus – to remember numbers of candidates – would lie with the voter as the ballot paper would not show names of candidates.
A detailed list naming candidates and their corresponding party/group numbers would of course be displayed on a board at the entrance of each polling centre. In last week's elections, as many as 7,620 candidates were in the fray for 196 seats in the 225-seated Parliament. The remaining 29 MPs would be nominated from a separate National List. A total of 336 political parties/formations had participated in the recent elections apart from 301-odd independent groups. These groups with usually imaginative election symbols such as a bunch of bananas or turtle or a steam iron are, officially, not affiliated to any particular political party.
It is interesting to note that while there are 66 major recognised political parties in Sri Lanka, hundreds actually contested the elections. The recognised political parties too had their share of interesting mascots. The Socialist Equality Party for instance used a pair of scissors as its election symbol while the Sri Lanka Vanguard Party had an envelope and the United Socialist Party used the three-wheeler or tri-shaw as is known in the local lexicon. Explaining the system of proportional representation is the Article 99 of the 14th amendment to the Constitution.
According to this, "The recognised political party or independent group which polls the highest number of votes in any electoral district shall be entitled to have the candidate nominated by it, who has secured the highest number of preferences, declared elected."
Special Polling Officers (SPOs) who are usually government workers act as supervisors for the elections. Their duties commence on the day of the polls and end in the counting centres where they accompany sealed ballot boxes along with police personnel. The department of elections conducts a brief training for the SPOs to familiarise them with election procedures prior to the polls. On an average, the department of elections pay each SPO, Rs 6,000 for two days of work including facilities such as food and drinking water. In government parlance, officers present at the counting centre who finally announce results as the counting continues are called returning officers.
Each counting centre of an electoral district accommodates up to 10,000 registered voters. Colombo, for instance, had three counting centres. The counting usually commences at each centre only after the last ballot box assigned to it has arrived. Usually, 1000 to 1500 registered voters are accommodated in each polling centre. More than 11,000 polling stations had been set up for last week's elections which were guarded by a minimum of three police personnel each.
According to the department of elections, a total of 45,692 voters displaced by the war had registered for last week's polls. With 26,582 displaced voters, Puttalum had recorded the highest number, followed by 15,817 persons from the Wanni. But PAFFREL which had deputed 8339 stationary and 1256 mobile observers along with 16 international monitors from the Asian Network for Free Elections island wide, said that displaced voters in Vavuniya had to face hardships as they had not been informed about the location of polling centres. In a statement, PAFFREL said, "In Vavuniya district there was some confusion among displaced voting population as to where they should go and cast their votes. Some of them took buses to Kilinochchi as they had done so during the Presidential election in January, only to find that their polling stations had been shifted to Vavuniya."
While paper ballots are still used in Sri Lanka, electronic voting machines (EVMs) have taken over electoral processes in many other countries including India. Officials of the department of elections had told the Sunday Times earlier this year that a prototype EVM was offered to Sri Lanka by an Indian firm Bharat Electonics three years ago but political parties here are yet to consent to the use of EVMs. Universal suffrage or the right to vote at 18 years came to Sri Lanka in 1931 when the country, still under British rule, had voted to elect members of the then State Council. This country's first Parliamentary general elections were held in 1947 – a year before Independence - when the department of elections was also institutionalised.