More than 14 million Sri Lankans go to the polls on Thursday, for a second time in three months, to pick their representatives to a new Parliament. They have a record 7,620 candidates representing political parties and independent groups to choose from.
Their choices hinge on different issues. For the United People's Freedom Alliance (UPFA), an over riding factor still remains the military victory last May against the Liberation Tigers of Tamil Eelam (LTTE). This gave an overwhelming 1.8 million-vote majority to Mahinda Rajapaksa at the January 26 Presidential election. The win was not that much in question, but the majority was. Still, a repetition of this wave of popularity coupled together with high-pitched and even extravagant campaigns, appears almost a certainty.
A fortnight back the news pages of this newspaper ran a story of the Inland Revenue Department sources going to crack down on a list of 40 candidates at the forthcoming polls campaign. Though the Commissioner General denied the existence of such a list, insiders said that the list contained mostly Opposition candidates. It also had the names of four pro-Government candidates.
The spending by Opposition candidates pales into insignificance in comparison to the splash of funds by Government candidates. The sources of income of most of them are unknown. This is a gold-mine for the Inland Revenue Department to dig into. It is a reservoir for IRD men to find out where undeclared monies exist in this country, but clearly, they won't have the spunk to investigate for fear of retaliation from the powers-that-be in the UPFA Government.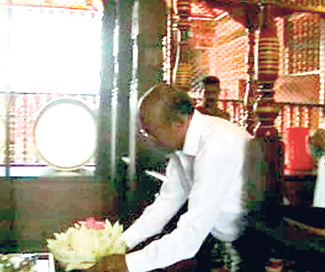 Elections Commissioner Dayananda Dissanayake – at the centre of much controversy and criticism – is seen placing a basket of flowers at the hallowed Dalada Maligawa in Kandy on the eve of general elections this week. Pic by Shane Seneviratne, our Kandy correspondent.
Ironic enough, even to the main opposition political parties - the United National Front (UNF) and the Democratic National Alliance (DNA) - the former dominated by the United National Party (UNP) and the latter by the Janatha Vimukthi Peramuna (JVP), the factor remains the same. The centre of focus, however, is on the other principal claimant for that military success, the man who led troops, retired General Sarath Fonseka, once dubbed the "world's best military commander" by the Rajapaksa administration, now its archenemy.
During the past weeks, the UNF tried to wrest control of DNA's main campaign issue - to seek his release.
As pointed out last week, UNP General Secretary Tissa Attanayake proclaimed at a news conference it was only a UNP Government that could release the one time war hero and not the DNA. The need to ensure the UNF lures votes that would otherwise go to the DNA on the General Fonseka issue also became an over-riding factor.
Other than that, the UNF's manifesto highlighting its policies and a relatively stereotype uninspiring advertising campaign remained its focus.
The latter simply repeated the party's decades old cliché - to bring down the cost of living, a theme the party had played ad nauseum at many a Parliamentary election with little or no results to show.
The only difference in recent times was the colour photographs showing sacks full of onions, chillies and other commodities.
That out of focus thrust is from a party credited with running one of the best election campaigns from the Opposition (1977) sans internets and mobile phones and later introducing a liberal free market economy.
Polls Chief and Police Chief
Yet, the country's main Opposition is in an unenviable position. It not only has to fight a political campaign against the ruling UPFA, but also has two other adversaries to contend with - the Elections Commissioner Dayananda Dissanayake and a formidable section of the Police hierarchy; the latter purged of questionable elements who are believed to have backed the General in his quest for the Presidency in January. The role of the police has become a cause for serious concern for both the opposition parties as well as organisations representing civil society. A serious question is the degree to which the elections would be free and fair. The issue has come to the fore due to some unprecedented developments this week.
UNP deputy leader Karu Jayasuriya went to the Supreme Court to get a ruling that the Commissioner of Elections issues 'guidelines' for the "maintenance of free and fair elections." On Thursday, the court had to direct the Attorney General to inform the Commissioner to take "some reasonable measures" towards this.
That an opposition party had to seek the help of the Supreme Court, the apex judicial body in Sri Lanka, to direct the Commissioner of Elections to do his job is damning. It does not reflect well on Mr. Dissanayake or the office he holds. Failing to enforce provisions of the law empowering him to conduct free and fair elections, therefore, is not only a slur on his office, but it is also an indictment on his competence. Though he vowed to quit after the Presidential elections, he later declared a change of mind. One would have thought he profited by the lessons learnt. Alas, it is the people at large who are confused.
The office of the Commissioner of Elections has become the laughing stock, funnily enough not only in Opposition circles but also in those of the Government. He is unable to ensure directives to Police Chief Mahinda Balasuriya are carried out. The latter in turn appears helpless in the wake of political high pressure. There have also been accusations of brazen partiality by the Police to ruling party candidates.
Rajith Keerthi Tennakoon, head of CaFFE (Campaign for Free and Fair Elections) told the Sunday Times that compared to the Presidential elections, there had been a marked increase in the abuse of state property. "State owned vehicles, without registration numbers, are being used by some ministers and deputy ministers. They are using all forms of stickers to cover the state emblem on their vehicles," he said.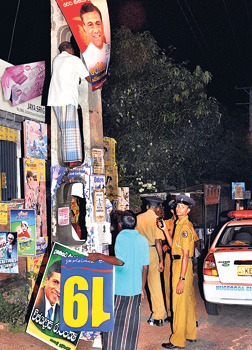 Police removing posters and cutouts that keep appearing on walls ignoring the polls chief's instructions. Pic by Gemunu Wellage.
He also charged that the Commissioner of Elections had failed to get the Police to remove hoardings, cut-outs, posters, etc. He has continued to extend deadlines given to the Police. The latest deadline ends today (Sunday). "In doing so, the Commissioner has really helped violators of the law to prolong their actions and benefit from them," he added.
Another embarrassing issue that will put Commissioner Dissanayake to further test will come on Tuesday when Parliament, which now stands dissolved, meets to approve the extension of the State of Emergency. Parliament Secretary General Dhammika Kitulgoda, recently informed the Commissioner of Elections that former UNP parliamentarians Johnston Fernando, Indika Bandaranayake and Meera Mohideen Mohamed (My Own) Mustapha have vacated their seats. The first two crossed over to the UPFA whilst the latter was a candidate at the Presidential elections. Accordingly, the Commissioner has gazetted the names of three others who would succeed them. Now, however, the Government has taken up the position that both Fernando and Bandaranaike could continue as MPs as well as function as Ministers.
The Government's position is based on the opinion of Attorney General Mohan Peiris. UNP leader, Ranil Wickremesinghe, in a letter to Speaker W.J.M. Lokubandara, declared, "not swearing in new members is tantamount to permitting Messrs Johnston Fernando and Indika Bandaranayake to enjoy the benefits of being Ministers and MPs."
He has said, "They would be strangers and thus their presence would be in breach of the privileges of the House." He has asked for the summoning of a meeting of the Parliamentary Business Committee (party leaders) to discuss the matter.
Soon after writing the letter, Wickremesinghe telephoned Tamil National Alliance (TNA) leader, Rajavarothayam Sampanthan and JVP's Parliamentary group leader Anura Kumara Dissanayake to inform them of the UNP's position. Wickremesinghe told the Sunday Times "the Government's attempts to keep the new MPs away from Parliament make a mockery of democracy."
The question that arises from this situation is how Speaker Lokubandara will respond. If he allows both Fernando and Bandaranayake to sit in the House on Tuesday, he would in effect be nullifying the actions of his Secretary General as well as the Commissioner of Elections. In the highly unlikely event of his not allowing them to sit, the MPs whose names have been officially gazetted to succeed would have to take their oaths. Such a situation would make the term served by Fernando and Bandaranayake as Ministers, since the dissolution of Parliament, illegal. The question here is not one of personalities or the prestige of a Government but time-honoured Parliamentary traditions, democratic norms and the statutes that govern its functioning.
General's health
For the Democratic National Alliance (DNA), the arrest and detention of General Sarath Fonseka continues to remain the main campaign issue. It complained this week that poor ventilation and cramped up space in his annexe at Navy Headquarters, among other things, had added to his health problems. His wife Anoma Fonseka called a news conference at her rented residence off Queen's Road on Wednesday to charge that her husband had been warned to avoid places which could cause infection after the injuries he suffered during the Tiger guerrilla suicide attack in April 2006. Doctors, she said, had advised that he should always remain in a place where there is fresh air.
"It is for this reason that we requested an air conditioner be installed. When he resided at home, he had one. However, they have not given that facility as yet", she said. She added, "The Navy doctor seeing him is not a specialist. I requested for a medical report. He was reluctant to give one. Instead, he has given a pill for phlegm. Even for the ICRC (International Committee of the Red Cross) to intervene we need a medical report. I requested that an Army doctor who is aware of his condition conduct a check up. This too has been ignored. The military spokesman is not telling the truth".
Embarrassing enough, the response to Ms. Fonseka had to come from an Army officer whom her husband once successfully installed as Sri Lanka's Defence Attaché at the High Commission in London. Until then, he had served as Military Spokesmen when then Lt. Gen. Sarath Fonseka was his Commander. Major General Prasad Samarasinghe told the Sunday Times, "The Navy doctor has examined him. He has said there is nothing wrong. We even showed him to an Army doctor. He has also said that nothing is wrong with him".
Added Maj. Gen. Samarasinghe, "Ms Fonseka has been claiming that General Fonseka needs to be examined by a medical specialist of the Army who had treated him earlier, but we have not received such a request. She should send a request to the Commander of the Army. We also have not had any request seeking a medical report about Gen Fonseka's condition. From our medical reports there is nothing wrong with his medical condition."
With only five days to go for the Parliamentary polls, the main player in the DNA, the Janatha Vimukthi Peramuna (JVP), is set to step up its campaign on behalf of General Fonseka. Yesterday, four members of the Buddhist clergy and two civilians began a fast unto death outside the Colombo Fort Railway Station.
Another major event before the polls is the sittings of the three-member General Court Martial (DCM) headed by Major General Harsha Weeratunga. It will hear testimony on Tuesday at the Ward Room of the Navy Headquarters. The other members are Major General Lalith Wijetunga and Major General Aruna Jayatilake. Tuesday's inquiry relates to what the Criminal Investigation Department (CID) calls "an anti-government conspiracy". As revealed in the Sunday Times of March 14, the GCM will inquire into allegations contained in Charge Sheet 1 against retired General Fonseka.
The first charge relates to remarks General Fonseka, who was then serving as Chief of Defence Staff, had made to one time United National Party (UNP) Parliamentarian Johnston Fernando. The second relates to Gen. Fonseka, as Chief of Defence Staff, seeking help from former MP Johnston Fernando to have his name proposed at the UNP Working Committee as the Presidential candidate. The third is having political discussions with former UNP Parliamentarian and Deputy General Secretary Lakshman Seneviratne whilst serving as Chief of Defence Staff.
The charges revolve around CID detectives questioning two former Parliamentarians, one of their staunch supporters and a journalist. The former Parliamentarians, both Johnston Fernando and Lakshman Seneviratne, have been staunch supporters of the UPFA Government's military campaign against Tiger guerrillas. In fact, in his younger years, Seneviratne had developed an affinity for the military since his father, the late Captain C.P.J. Seneviratne, who represented the Mahiyangana electorate, served in the Volunteer Corps of the Army.
Secret talks
When Tiger guerrillas were militarily defeated in May last year, both praised Gen. Fonseka publicly for leading troops to victory. This won for them the former Army Commander's admiration. The journalist in question, Ruwan Weerakoon, one time defence writer for the Nation newspaper and Colombo correspondent for a website, had reportedly acted as intermediary.
It must be made clear that Weerakoon has strongly denied in his statement to the CID the references and allegations Fernando and Seneviratne had made in their own statements. It would be for both the General Court Martial and the civil courts to determine the facts and reach conclusions. However, for the benefit of readers, in order to obtain a clearer picture of the developments that had gone on, the statements made by the various parties are referred to here, without prejudice.
It was in late September, last year; Fernando has said that he met Weerakoon at the Cricket Club, a restaurant off Duplication Road. He has said that both Seneviratne, his then Parliamentary colleague had carried out a campaign within and outside the UNP for reform. Together with other like-minded colleagues, they met at the residence of Gamini Abeyratne (also known as Taxi Abey), a one time Executive Director of Lanka Airport and Aviation Services Ltd. He as well as Seneviratne knew Weerakoon because of their stance towards ending the separatist war and praising General Fonseka. Weerakoon had given them publicity and continued a dialogue.
One day, Weerakoon told Fernando that General Fonseka had wanted to meet both him and Seneviratne. He had asked for the reason. He was told that Gen. Fonseka wanted him to propose and Senevratne to second his name on behalf of their party, as the Presidential candidate. Fernando had asked for the telephone number but Weerakoon had refused. However, the latter said he would arrange a call on a secret number. Weerakoon had insisted that the dialogue remain a top secret too. Fernando told Abeyratne about this. He advised Fernando to be extremely careful and to tape record all conversations.
Fernando has said that because of the discussions, he had met Weerakoon at the restaurant.
Weerakoon had carried two mobile telephones and was making calls every now and then. He had told Fernando that General Fonseka was at a discussion and would call back. By this time, Weerakoon had pulled out two more mobile phones from his pocket. Fernando had been nervous whilst having tea with Weerakoon. He had shown anxiety by looking around. According to Fernando, Weerakoon had allayed his fears by saying not to worry since a pistol team was on alert nearby. They would arrive within seconds of being asked, he had reportedly said.
Moments later, Fernando has said that there was a call on one of his mobile phones. It was General Fonseka. Weerakoon had handed over the phone to him. Since there were others in the restaurant, he had walked out to the small garden outside. Then Chief of Defence Staff asked him "kohomada manthri thuma" (how are you MP?). He had declared that he had decided to contest the Presidential elections. When Fernando asked what his future plans were, he had replied that he was travelling to the United States on October 23 and referred to some sensitive matters thereafter.
Fernando had asked for General Fonseka's date of birth. At first, he had been reluctant. Later, he had said he had already contacted astrologers. They said he had a good raja yoga (auspicious setting - meaning he could reach high positions) and urged Fernando not to mention this to anyone. He had later given his date of birth as December 18, 1950 at 02.06 a.m. in Ambalangoda. He had said he would meet Lakshman Seneviratne before leaving for the US. Fernando had declared that his conversations with General Fonseka were all tape-recorded and had offered to produce the tapes when required.
Weerakoon, however, has denied in a statement made to the CID that the references were to him and admitted that he lent his mobile phone to Fernando to make a telephone call. He has done so since Fernando, who was in the same restaurant, had said his battery in the mobile phone was low, and that he knew nothing of the conversation that took place between the General and Fernando.
Lakshman Seneviratne former UNP MP had said Weerakoon contacted him on the telephone upon his return to Colombo from a trip abroad. He was surprised since no one had known he had arrived. Weerakoon had told him General Fonseka wanted to speak with him. He had readily agreed since he was open to anyone. Weerakoon had arrived at his Colombo residence with a CDMA (satellite) phone. He had telephoned General Fonseka and handed over the handset.
General Fonseka had told Seneviratne he would retire some day to enter politics. Seneviratne had welcomed the move since he was one of those who had acknowledged the role played by the war hero. During this period, Johnston Fernando and Gamini Abeyratne described in CID statements as a strong ally of the UNP and other MPs in the party, who were critical of the leadership, were discussing reforms. They were meeting at Abeyratne's residence in Colombo.
On another occasion, Weerakoon had facilitated a telephone call on a CDMA telephone bettween Gen. Fonseka and Seneviratne. He had later briefed both Fernando and Abeyratne. Seneviratne had spoken on a CDMA phone from Abeyratne's residence too. Abeyratne, wanting to ensure it was General Fonseka, had asked him to switch on the speakerphone. Later, Abeyratne had confirmed it was his voice.
Seneviratne has said he had spoken on many occasions with Gen. Fonseka though he had not met him until after his retirement. These conversations too had been tape-recorded and Senevirate has offered to produce them when required.
Gamini Abeyratne has said that he was a member of the UNP. So was his wife who was also in politics. Being a close associate of one time Defence Minister in the UNP Government, Tilak Marapana, he had met Gen. Fonseka during visits to Jaffna. He had also spoken to him on the telephone. He could recognise his voice. Some UNP MPs who were against leader Ranil Wickremesinghe, Abeyratne has said in his statement to the CID, met at his residence regularly. This included Johnston Fernando and Lakshman Seneviratne.
Abeyratne has said Fernando had informed him that a person called Weerakoon telephoned him. He had also spoken to General Fonseka. Thereafter, Abeyratne advised Fernando to meet General Fonseka, then Chief of Defence Staff. Some days later, Seneviratne had also telephoned him to say the CDS had called. However, he had refused to give details on the telephone. Then, Seneviratne had told Abeyratne during a meeting that Gen. Fonseka wanted to contest the presidential elections.
From his residence, Abeyratne had said, Seneviratne once telephoned General Fonseka. He had heard Gen. Fonseka say he was going abroad and would do many things on his return. He had also said that he wanted to contest the Presidential elections in a direct contest instead of a three cornered fight (meaning three different candidates i.e. one from UPFA, one from UNP and General Fonseka).
That was the beginning of a dialogue by General Fonseka with the opposition parties. Their leaders met him secretly at several locations for talks. That led to his becoming the main opposition's 'common candidate.' He contested under the Swan symbol from the New Democratic Front (NDF). The main theme of his campaign was to battle bribery and corruption.
Senaka's Belgium connection
General Fonseka has said that his arrest is illegal and so was the composition of the General Court Martial. His lawyers have initiated action in the Supreme Court and the Court of Appeal over issues related to this. His Campaign Manager and General Secretary during the Presidential polls campaign, S.H.A. (Senaka) De Silva is now at the centre of a dialogue between Sri Lanka and Belgium law enforcement agencies. The latter wants to extradite him from Sri Lanka to serve a jail sentence there.
The matter figured at length during a discussion last month at the Foreign Ministry. A two-member delegation from the Belgian judiciary was here on an official programme to discuss other unrelated issues. However, they raised the subject. They sounded out Government officials on the possibility of extraditing him to Belgium. Taking part in the discussions were officials of the Foreign Ministry, Ministry of Defence, Attorney General's Department and the Criminal Investigation Department (CID).
The Sunday Times has learnt from Interpol Headquarters in Lyons, France, that S.H.A. De Silva, had on November 22, 2004, fraudulently transferred (through internet banking) a total amount of 347,000 Euros (over Rs 52.7 million) from four different Belgian accounts to his current account in a foreign bank in Colombo. This account now remains frozen on a Court order obtained by the CID. All four accounts belonged to different arms of NV Credit Management & Advice, a leading credit management firm based in Zottegem in Belgium. Interpol said computers have been hacked to effect these illegal transfers.
Interpol sources said on the telephone from Lyons (France) that the Belgian Police investigation number was 04/120. The Examining Officer at the Office of the Public Prosecutor in Oudenaarde (Belgium), Freddy de Smet, had conducted the prosecution in this case which bore the official number: OU 20.99.000295/04.
On May 15, 2009, the Zottegem Magistrate, A.M. Dhont sentenced S.H.A. De Silva to two years imprisonment and imposed a fine of 27,500 Euros (over Rs 4.1 million). In the absence of the fine, the Magistrate ruled that he serve a further term of three months. The judgment came after De Silva was tried in absentia. This case has taken a serious turn after NV Credit Management & Advice filed civil action against the Belgian judicial authorities heightening pressures from Brussels on Colombo for De Silva's extradition. However, the absence of an extradition agreement, Justice Ministry sources in Colombo said, has raised many knotty and time consuming legal issues.
The Attorney General's Department, has through the Colombo Interpol Bureau (which functions under the Criminal Investigation Department), sought the Belgian Police to request a representative of NV Credit Management & Advice to visit Sri Lanka to be a witness at future legal proceedings against S.H.A. De Silva. The Interpol Headquarters source said the request has been transmitted to the leading credit management firm. "A representative will arrive in Colombo at the appropriate time to place all evidence including results of investigations, Court proceedings and affirmed copies of judgment in Belgium before a Sri Lankan Court," the source said. As revealed in these columns (the Sunday Times - February 28), De Silva had served three and half years, part of a longer sentence, at the Welikada Prison for a case of robbery whilst in Sri Lanka.
Confident party leaders
From February 10, when the date of Parliamentary polls was proclaimed, violent incidents until Friday have totalled 259, according to Police Headquarters. There were 87 intra-party clashes during the same period. Of this number, 85 were from within the UPFA candidates highlighting how bitter the tussle for preference votes has become. There were also 19 complaints of polls law violation during the same period.
The UPFA's campaign manager, Basil Rajapaksa re-iterated his forecast that the alliance would win. "Though we have not asked for two thirds, we do not rule out such a possibility in view of the vast public support," he said. National Freedom Front (NFF) leader, Wimal Weerawansa, one of the partners said two thirds was achievable. He said the UNP would end up with the lowest percentage ever gained from the proportional voting system. Another partner, the Jathika Hela Urumaya's (JHU) Champika Ranawaka said, "This Government began with 86 members and ended up with 130. The UPFA can get close to a 2/3rd majority. Once Parliament meets, we will have the 150. The UNP will certainly join us."
However, UNF leader, Ranil Wickremesinghe was confident. He said, "We feel we will be the largest party in Parliament. In our worst moments, we can get 83 to 84 members. The Government has lost its popularity and has not delivered. Even in the worst scenario, the opposition parties can get 105. Then I can say the country has accepted our programme."
Somawansa Amarasinghe, JVP leader, was more cautious. He said, "You cannot predict anything. Firstly, we are not sure whether the polls will be a free and fair one. Today, we do not know at which moment we will be attacked, at which moment our election office will be set on fire or when we will be taken into custody. No one can predict."
The expectations of the UPFA, its allies and the opposition party leaders, as their comments show, are very high. It is only four more days before a nation learns who is right and who is wrong.