Meeting the team behind Sri Lanka Unites (SLU) is a cure for cynicism – this small group of young people is so determined to invest in this country's future that they were willing to take 400 school children and turn them into ministers for reconciliation and agents of change. They've chronicled their experiences in a new documentary 'Road to Reconciliation' that follows the team over the course of five amazing days at the Future Leaders' Conference for Hope and Reconciliation.
Held last year, the conference brought together participants from all over the island. Children from diverse socio-economic backgrounds, who spoke different languages, worshipped different gods, and traced their lineages to different ethnic groups were forced into what must have been, at least initially, uncomfortably close quarters. They were asked to take responsibility for a conflict that had ravaged the country for over three decades, and then they were asked to help ensure it never happened again. Is it any surprise that by the end, they were the best of friends and allies? If you were feeling cynical, you might say yes, but cynicism is in short supply these days around the SLU crowd.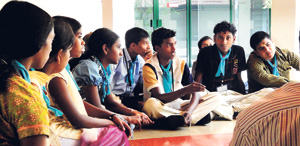 Though the kids walked in not knowing anyone outside their own little circle, they soon discovered that that would have to change. Placed in mixed dormitories, they had no choice but to mingle. The idea was that they would be "forced to forget their schools and function as a team for the five days of the conference," says Anush Wijesinha Treasurer for SLU.
These teams brought children from different regions together. As expected they bonded over art, sports, music and of course Sanath Jayasuriya. The sports icon was one of several notables to make an appearance. One student Ayesh Perera was barely able to stand still as he animatedly declared – "when he entered, we felt something we have never ever felt." When Sanath slipped the blue SLU band around his wrist, you knew it was worth a whole speech.
The roster of other speakers was in itself rather remarkable, and featured the likes of Former UN Under-Secretary General, Jayantha Dhanapala; Former Judge of the International Court of Justice, Christopher Weeramantry; entrepreneur Nayana Karunaratne, and the education minister Hon. Susil Premajayantha. They were pretty much the most prominent people in their fields that we could get," says Dishan Wickramaratne, Vice President, SLU.
In the evening, the children revelled in the finest entertainment to be found with the likes of Ashanti, Umara and Umariaya, Krishan and Ravibandu Vidyapathi taking to the stage. It's worth noting that both Krishan who is an international Tamil hip hop artiste and Ravibandu who is counted among the country's most outstanding musicians, pride themselves on their multicultural approach to their art, and were very vocal about how their music was enriched by this. Sports also became a handy metaphor. Teams had their own flags and hilariously grandiose titles (think Polonaruwa Pirates, Jaffna Giants, Vavuniya Vikings and the Anuradapurah Avengers). Children learnt to circumvent the language barrier, and though team spirit ruled the day, it must have been tough going.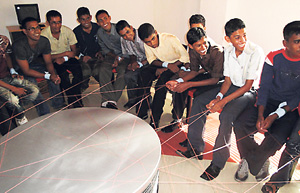 Such activities led the kids to the conclusion that language was an issue, says Anush. Dr. Kumar Rupasinghe, Founder, Foundation of Co-Existence made no bones about it – "learn the language of the other...that's the best form of co-existence is when you know the language of the other." Across the wide spectrum of activities the kids were immersed in all three languages – many of them expressed these newly uncovered sentiments in the poignant, sprawling canvas that was a group effort.
"There's Tamil, there's Sinhala and there's English – all messages of hope and reconciliation," says Sabrina Esufally, Art Director, SLU. "All we said was, 'this is your space, you tell us about what reconciliation means to you.'" And they did. Together we can,' is scrawled on one corner, 'nothing is impossible,' reads another line and everywhere flowers bloom, rainbows arch, and suns rise.
The entire event was orchestrated by a small group, formed only last year. Organising the conference was a trial by fire, but the team itself "has become a microcosm of what we'd like to see in the nation," says Prashan de Visser, President, SLU. Despite their shared vision, they found few locals willing to fund them; however, supporters abroad baked cookies, ran marathons and petitioned friends for financial aid, all because they believed in the cause.
Watching the documentary, one is given a quick synopsis of what must have been an exhausting five days. Even as the team prepares for the next conference, they've kept busy. Attending the launch were 40 of SLU's regional leaders from Jaffna, Batticaloa, Kandy, Kalutara and Colombo – each had already launched their own SLU reconciliation clubs in their schools. In a ripple effect, SU estimates that by October 2010 they will have 90 clubs with over 20,000 members in operation across the island.
They also continue to work on IDP relief, school adoption and student scholarship programme, and have many other innovative initiatives planned.
The organisation currently runs on the support of their volunteers, and should you wish to be a part you can contact them on the web through www.srilankaunites.org. In the meantime, keep an eye out for the blue bands.