Campaigning for the general elections is now underway with candidates bracing themselves for another four weeks of gruelling campaigning to secure a place in the next parliament with some addressing public issues and others continuing to blatantly flaunt election laws by pasting posters in every conceivable nook and corner.
Some candidates have launched their own websites to promote their candidature while there has been a call by a few to conduct an environment-friendly campaign by refraining from using polythyne as well as excessive amounts of paper for posters.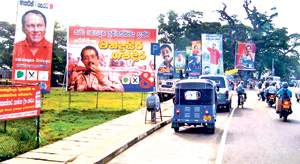 Matara : A town defaced by politicians of all hues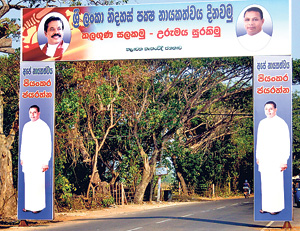 Chilaw: A pandal-style billboard right in the middle of the road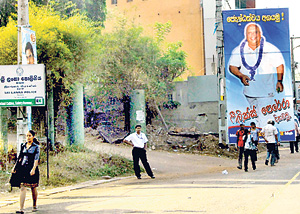 Kandana: A large billboard next door to the Police Station
Among those who launched websites last week were Foreign Minister Rohitha Bogollagama and Environment Minister Champika Ranawaka, UNP member Karunasena Kodithuwakku and General (retd.) Sarath Fonseka who is contesting the polls from the Democratic National Alliance (DNA).
All four are vying for a seat from the Colombo district.Minister Ranawaka has been in the forefront of promoting an environment- friendly campaign citing that about 300 trees have to be cut down to put up the large number of posters of some candidates thus causing irreparable damage to the environment. Among others who have pledged to carry out campaigns that will not harm the environment are Minister Milinda Moragoda and UNP member Karu Jayasuriya.
The issue has also been taken up by environmentalists who called on voters last week to be more conscious of this aspect when casting their votes and elect persons who carry out an environment-friendly campaign. Among those who joined the campaign was well known activist and actress Irangani Serasinghe.
Meanwhile Police have begun removing banners and cut-outs of candidates with Rs 22 million being allocated for the purpose.
Election laws stipulate that a candidate can display banners, posters and other propaganda material at a party office and at a place where a meeting is being organised and their personal vehicle but this law is violated openly by many candidates.
The Elections Department meanwhile allocated numbers for all candidates and dispatched them to the District Secretariats from where the numbers would be issued to the relevant candidates.
The large number of candidates contesting this year's general elections is posing a logistical problem to the Department not to mention the additional expenditure that has to be incurred to print lengthier ballot papers as well as increase the number of ballot boxes.
The ballot papers have increased in length due to the large number of candidates in the fray bringing up the issue of inserting long ballot papers into ballot boxes, officials said.
The rise in election-related violence with escalating attacks among members of the same political party has also become a cause for concern election monitors said.