Six Bronze Medals and three Silver Medals were bagged by the Culinary Team of 'Amaya Hills' at the recently concluded Culinary Art 2010.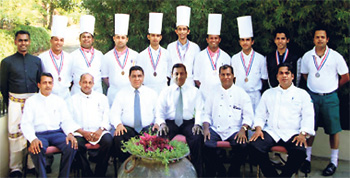 Stand left to right – Anil Wijesinghe, K. G. R. P. Karunarathne, T. M. U. Tennakoon, L M R C S Weerakoon, T H S Wimalananda, H. M. B. L. Bandara, P R G S Weerawansa, W. M. P. B. Wijesekara, Shivantha Samarakoon and S. S. Sayakkara.
'Amaya Hills' owned by 'Amaya Leisure PLC' was the recipient of a number of awards at the Culinary Art 2010 event held at BMICH.
Culinary Art 2010 organized by the Chefs Guild of Sri Lanka is a c ompetition which highlighted the skill levels of Sri Lankan Chefs and Artists along side the Bartenders where almost every hotels, hotel schools and even standalone restaurants participated. 'It is the biggest team building exercise any hotel can think of' said Samantha Ratnayake, Manager of the Hills.
The Culinary and the Bar Teams was trained by the Executive Chef, Palitha Weerasekara, Sous Chef, Samantha Gunasekara and the Food & Beverage Supervisor, Anil Wijesinghe.
The picture shows - seated left to right – Hiudath Ratnasiri Food & Beverage Manager, P.P.K.R. Weerasekara Executive Chef, Rehan N Razeen Assistant Manager, Samantha Ratnayake Manager, T. A. Sumanapala Group Chef and Mr. Samantha Gunasekara Sous Chef.