6 a.m: The red light snaps on and we're on air. In her tiny studio, Shehara Liyanage bids her listeners a cheery "good morning!" slipping into the comfortable patter they've grown used to. She lines up the next song, and with a promise of good music to come, pumps the volume up on George Michael's 'Amazing'.
For the next four hours, she and her co-host on The Morning Show will offer their audience music, games, brain teasers, laughter and a whole line-up of promotions and events, but it's their own playful banter that keeps most listeners hooked. Whether they're discussing the 10 friends everyone must make or their outfits for a party, the two play to an audience of thousands of listeners. But it's hard to imagine all those radios tuned to Yes.FM so early on a Thursday morning in the company's quiet studios in Pannipitiya.

Shaq isn't here yet and Shey still looks a little sleepy - she's been up since 3:45 a.m. Looking at her computer screen, she queues Toto. "How good the play list depends on how good Jude's lunch was yesterday," says Shey wryly, referring to the man who creates many of Yes.FM's famously upbeat playlists. Shey has learnt how to multitask - she juggles the equipment, answers callers, reads sms, keeps tabs on their facebook page and matches her co-host joke for joke. In some ways, the Morning Show is her baby, and under Shaq's direction she takes on a lot of the planning and administration for the show.
Shey hates to be rushed, but Shaq appears to thrive under pressure. When he pushes open the door to the studio at 6:20, he brings with him enough energy to fuel a dozen morning shows. He's dressed for the rest of the day – the tie and formal shirt suit his alternate title as Yes.FM's channel head. The bulk of his working day lies on the other side of the Morning Show. But after more than a decade as the show's host, Shaq isn't quite ready to call it quits. "11 years of waking up at ungodly hours and driving to work when everyone else is fast asleep...I ought to get out of this," he says laughing, but when he refers to the show as a "stress reliever" in his next breath, you know he has no intention of doing so.
It's going to take Shey a little more time to gain such assurance, but for her the show is just beginning to be fun. It'll be three years since she became Shaq's co-host. Well known as the extraordinary soloist in the award -winning choir Soul Sounds, Shehara initially applied to Yes.FM for the post of a news reader.
"I walked in on Ramzi listening to some of her tapes...she was confident and natural and some of the things she said were very, very funny." Still, post Mark's departure from the Morning Show, "Shehara had to fill really big shoes," says Shaq. With so much of the show involving impromptu conversation, Shehara would either have to cope or crumble – "it was serious pressure because it was my first show," she says.
She still remembers the date, "it was the 31st of July 2007." In an attempt to keep things fresh, Shaq had decided to make it a three way, with Ross, Shey and himself hosting the show together. Then Ross had to leave and it became Shaq and Shey on the Morning Show.
Today, the two have an enviable on-air chemistry, but their audience didn't always think so. A lot of the initial feedback was negative, says Shaq, adding that "audiences don't like change." Shehara, unfailingly cheerful and kind, found it tough going. But having thrown her in the deep end on her first show, Shaq trusted his instincts. "I knew there was something there that could be brought out.
The audience is very critical," he says, "so I knew it would have to happen in double quick time." Shaq has broken in over five different co-hosts ("four of them were girls, but then so was Mark"), and he admits "it's a learning process for me too in the beginning. Personally I set very high standards," he says, adding after a pause, "subconsciously I do push them and Shehara has been pushed a lot."
Shey has moved from being in awe of her co-host, to being friends with him. Everyone loves Shaq and for Shey just watching him in action is an education. One of these years she just might be ready for her own show, and she'll take with her all the things he's taught her. "I've learnt so much, so quickly because I've had a chance to watch him handle the shows," she says. "Never stress out or panic, even when your equipment isn't working," is one of the rules, "Be confident, be yourself," are two others. But the secret to their success might lie in the fourth – "always talk to one person."
In a world of ipods and music television, radio isn't about the songs any longer, it's about companionship, says Shaq. It's 55 minutes past the hour - news bulletin time on the show - and Shaq uses the break to get out of the studio. We're standing in the parking lot and Shaq is drinking his third coffee for the morning – his hectic schedule is fuelled by "lethal amounts" of caffeine and nicotine. The mug in his hand is a gift from one of his many listeners – customised with his name and a photograph – it's a small symbol of his success. Elaborating on his approach, he says, "the audience listen to the radio so that they have people talking to them...and we try to make it as local and as personal as possible... we're being real, natural, just like them."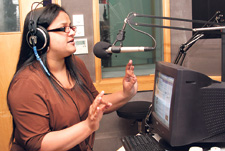 It's a recipe that appeals to a surprisingly diverse audience – and many of them would like nothing better than to have a chat with Shaq or Shey. The two man the phones themselves through their marathon stint. "They don't stop ringing...the beauty of the show is that it's four hours long, but every twenty minutes the spectrum changes and it gets larger and larger," says Shaq. A nine- year-old on her way to school was their first caller and now with less than an hour to go, Shey is chatting with a house bound, middle-aged listener, the owner of two Labradors. They spend a minute discussing the charms of canines, but there are prizes to be won, and when the lady hangs up, she's the proud winner of two concert tickets.
The two make it sound effortless but it takes dedication to keep things fresh – "we're constantly doing new things," says Shehara, "if you fall into routine then it spells your doom," adds Shaq. For both, their unusual working hours play havoc with their personal lives. With a working day that begins at 4:30 and goes on till late, Shaq can only really spend time with his wife and two sons – aged 8 and 6 – on weekends. But for Shey, all the early nights and forgone parties are worth it – "I used to listen to these guys on my way to school and now I get to sit next to Shaq on the Morning Show," she says, still sounding slightly awed. For Shaq, it's the unfolding of an adventure – "I don't know what I'm going to do in the next hour – I just go in there and it just happens."