The people of Dubai have extended their reach-into the sky. In January, the world's tallest building opened there. The skyscraper, called the Burj Khalifa, is more than 160 stories high, with 60-mile views from the top of the tower. At 2,717 feet, the structure stands more than 1,000 feet taller than the last tallest building, the Taipei 101 in Taiwan.
After five years of construction, the Burj Khalifa opened with a party. Fireworks lit up the surrounding sky. The world's largest fountain shot water high into the air. Two men parachuted more than 2,200 feet from high on the building to set a new world record.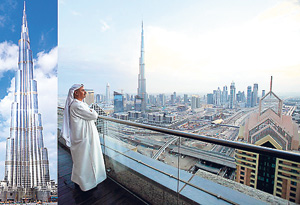 Burj Khalifa in Dubai, United Arab Emirates, is now the world's tallest free-standing structure.
But now the tower is getting down to business. The skyscraper has 37 floors of office space and 1,000 apartments. It will house the world's largest mall. The owners hope that eventually more than 12,000 people will live and work in the 6 million square feet inside the building.
The Burj Khalifa was originally named the Burj Dubai, or Dubai Tower, after the region where it was built. Dubai is a sheikdom, or a region in the Middle East that is governed by a ruler called a sheik. It is part of the United Arab Emirates, a country made up of seven sheikdoms. Recently, Dubai needed a loan. Sheik Khalifa, President of the United Arab Emirates and sheik of neighbouring Abu Dhabi, helped out. Burj Dubai was renamed Burj Khalifa in his honour.
The towering structure has broken a number of records besides the record for height. It has the world's highest swimming pool, on the 123rd floor. It also has the world's highest outdoor observation deck: Visitors can stand in the open air 124 stories above ground.
Fifty-four elevators race up and down, going as fast as 40 miles an hour. Should the elevators stop working, 3,000 stairs go from top to bottom. And when it's time to clean the windows, 36 workers will spend about three months washing them.
The Burj Khalifa soars over the world's other highest skyscrapers. Its height outstrips the Taipei 101 by 60 stories. It stands more than 1,100 feet taller than China's Shanghai World Financial Centre and Dubai's new tower dwarfs one of the most famous skyscrapers of all: it stands more than twice as high as the Empire State Building in New York City, the world's tallest building for more than 40 years.
Scholastic.com