Text and Pix by Rangi Akbar

Being a bridesmaid for eleven years to Kandy SC is too much to bear. Eager to change this situation CR&FC have made some telling changes for the forthcoming rugby season. The first of which is to appoint their brilliant third rower Dushantha Lewke as their skipper.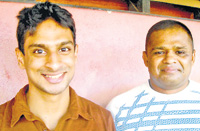 CR's coaches Bilal Yusuf and Viraj Prasanna.

In addition to having recruited a host of promising youngsters the team will be jointly coached by Bilal Yousuf, who helped Royal to be the champions schoolboy outfit last year and Viraj Prasanna who coached S. Thomas' to secure second spot in the schools rugby scene in 2009. Bilal's father Javed Yusuf played rugby for Royal and CH&FC as an attacking flanker in the 60's. Of course CR will have their foreign rugby consultants this year as well.

It was in 1998 that the Longden Place Club laid their hands on any trophy when the team was skippered by Champika Nishantha. Since then they have always come off second best to Kandy SC. This year CR plans to change all this and have secured a generous sponsorship from Hong Kong and Shanghai Banking Corporation (HSBC) to further their needs.

Dushantha, son of Nimal Lewke, a former President of the Sri Lanka Rugby Football Union (SLRFU), Police rugby skipper and a boxer of great repute, speaking of the CR team said that seasoned campaigners Ashen Karthelis, Anuja Perera, Terrence Henry, the Costa brothers, Dhanushka Boteju, Dhanushka Perera and Reza Mubarak will be there to do service for the team. Dhanushka Perera and Reza Mubarak are however out of the country following a rugby development course in South Africa but will be there in time before the season begins.

The Club has also managed to secure the services of Bilal Hasan (the Royal powerhouse) and Sharo Fonseka from the CH&FC.

The Longden Place ruggerites will not be short of talent this year as they have secured the cream of last year's schoolboy talent in Viswajit Jayasinghe and Niroshan Fernando of Isipathana, Roshan Kodituwakku of S. Thomas', Adiris Omar of Trinity, Sachin David of S. Thomas' and Shabir Mohammed of Royal.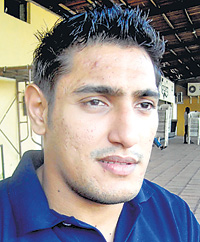 Dushantha Lewke


Dushantha was Deputy skipper of the champion Royal outfit in 2002 when they drubbed Trinity by record margins in the two Bradby Shield encounters. That year Royal was captained by the versatile link-man Zulki Hamid, who still turns out for CR.

Dushantha was reluctant to talk about the experience he had when he was appointed skipper of the national team in 2008 for the Asian Five Nations Tournament in Taiwan and was ultimately stripped of the post as several clubs had protested that he is the son of SLRFU President Nimal Lewke and had alleged that Nimal Lewke was favouring his captaincy. "Only one club opposed my selection. The rest were in favour of me being the skipper," said Lewke with deep regret.

Having watched Lewke (Jnr) in action, it is my belief that he is one of the best third rowers in the game today and that his captaincy of the national team is only a matter of time.

When questioned about the present situation in the Interim Rugby Committee, Dushantha very prudently said that he is not in a position to answer that.

Dushantha had words of praise for CR Manager Rohan Chinthaka saying that he knows the players in and out and is a very astute leader. Also he spoke of the efforts that CR's President Jehan Canegeratnam is making to put the club back on its former rugby pedestal. Not only is Canegeratnam taking great pains to see that NOT only player development but also that they behave properly on and off the field and speak good English as well. "In short he is concerned about the players' personal development as well" said Lewke.

Speaking on his life at home Dushantha said that he receives all encouragement from his parents and specially his sister Anushka, who he said is "very analytic" where the game is concerned.

Dushantha was happy that other teams such as Kandy, Navy, Air Force, Havelocks and Police too are making determined efforts to bring up their standards in rugby.

"CR definitely will face a tough and demanding season ahead and we will be ready for it," he concluded.