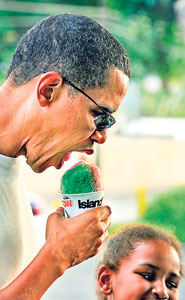 US President Barack Obama eats shave ice with his daughters Maila and Sasha (One not seen in picture) outside Island Snow store in Kailua, Hawaii, on January 1. The First Family are on vacation in Hawaii. AFP.
KAILUA, Hawaii, Jan 2, (AFP) - US President Barack Obama on Friday took a respite from the pile of grim news clouding his vacation, taking a group of friends and their kids for a chill Hawaii delicacy -- shave ice.
At a shave-ice store near his vacation rental, Obama picked one of the concotions, made of ice and fruit syrup and known as the "Snowbama" in his honor -- flavored with lemon-lime, cherry, and passion guava.
"That is the Snowbama," the president said, when reporters questioned his choice of treat, after he ordered the group 19 shave ice cones of various flavors.
Onlookers cheered Obama, who was with daughters Malia and Sasha and friends and their children who have been sharing his vacation in his home state.
Obama arrived in Hawaii just before Christmas and is due to leave on Monday. His hopes for a rest have been disrupted by the attempt by a suspected Nigerian extremist to bring down a US airliner bound for Detroit last week.
His holiday was also jolted by the deaths of seven CIA employees at a forward operating base in Afghanistan.