PESHAWAR, Pakistan, Jan 2, (AFP) - Investigators sifted through rubble after a suicide car bomber detonated his explosive-filled vehicle in a crowd watching a volleyball game in northwest Pakistan, killing at least 93.
Friday's bombing marked a bloody start to 2010 for Pakistan, which has seen a surge in attacks blamed on the Taliban in recent months as Islamist fighters avenge military operations aimed at crushing their northwestern strongholds.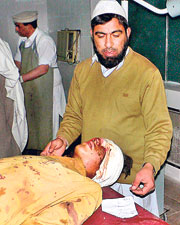 A Pakistani paramedic gives treatment to an injured suicide blast victim at a hospital in Bannu late January 1. AFP
The huge blast in the village of Shah Hasan Khan, in Bannu district, bordering the Taliban stronghold of South Waziristan, was Pakistan's deadliest in more than two months. It caused the collapse of more than 20 houses, some with families inside.
"The entire nation is against terrorists," Prime Minister Yousuf Raza Gilani said. "Their agenda is foreign. Their agenda is to destabilise the government, deteriorate law and order and create fear and panic.""We have the ability and resolve to eliminate terrorists," he said, adding that help would come from the international community.
US Secretary of State Hillary Clinton vowed her country would continue supporting Pakistani people "in their efforts to chart their own future free from fear and intimidation."Catherine Ashton, the European Union's new foreign policy chief, said she was "shocked" by news of the attack.
"In this difficult moment, the EU reaffirms its support for the government and the population of Pakistan," Ashton said. In the village, resident Riaz Ahmad said pieces of human flesh and dried blood could still be seen on the ground and people were sifting through rubble searching for dead and injured.
The bomber drove a pick-up vehicle packed with 300 kilograms (660 pounds) of explosives onto the site of the volleyball match and detonated. "Five more people died overnight in the government's main hospital in Lakki Marwat town, raising the death toll to 93," district police chief Mohammad Ayub Khan told AFP, blaming militants who were targeted in a military operation in Bannu last year.
Six children and five paramilitary soldiers were among the dead. The volleyball tournament was organised by a peace committee which had supported a government operation to expel militants from the area.