PARIS (AFP) – For each case of swine flu causing high fevers and crippling muscle pains there could be four others without major symptoms, French experts have reported. Infection rates for the pandemic H1N1 virus in France, where the study was done, may be far higher than previously thought if these so-called "asymptomatic" cases -- easily mistaken for a bad cold -- are taken into account, according to a study posted online Monday.
The results suggest the same could apply to all the regions in the world where the newly-emerged virus has struck. Researchers led by Xavier de Lamballerie, director of of the Emerging Viruses Unit of the University of Aix-Marseille, analysed data collected from blood samples given by more than 1,000 women getting regular check-ups during the first trimester of pregnancy.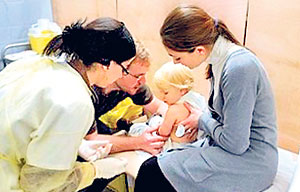 A young child is vaccinated against the A(H1N1) influenza in November 2009 in Lyon's biggest vaccination center. AFP
The samples were collected from across the country over a two-week period at the end of November and early December, said the study, published in PLoS Currents: Influenza, a research-sharing platform vetted by flu experts.
Traces of the swine flu antibodies showed up in more than 10 percent of the women. It was not known how many had had severe flu symptoms. Extrapolating to the entire male and female population of adults between 20 and 39 years old in mainland France, the researchers calculated that more than 1.7 million people in that age bracket would have been infected.
This figure is five times the number of patients of the same age who consulted a doctor with major flu symptoms over the three-month period up to the end of November, suggesting that four-in-five cases went unreported or -- more likely -- did not erupt into a severe influenza.
Experts say the H1N1 virus that first emerged in Mexico in March has almost entirely replaced the "normal" seasonal flu, a signature trait of flu pandemics in the 20th century as well. "The number of people infected by the [swine] flu is higher than we would have estimated by counting up the reported cases," said Lamballerie.
An "unusually high rate" of asymptomatic cases -- much higher than for the seasonal flu -- could explain this discrepancy, he said. At the same time, he cautioned against concluding that it was not necessary to be vaccinated against the new flu strain.
"While it may be true that there are more people for whom the flu is less serious and asymptomatic, it is also true that there are more people who have serious or very serious forms of the disease" compared to the common flu, he told AFP.
He added that is was not even certain that being infected with the weakest form of virus provided protection against the more virulent ones, though preliminary evidence suggested as much.