The UN Global Compact Local Network Sri Lanka (UNGCLN SL), at a recent workshop held in Bangkok for Global Compact Local Networks in Asia and Pacific, was awarded the Best Asia-Pacific Network in 2009.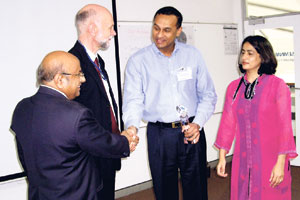 Picture shows from left F.Siddiqui UNGC Focal Point, Pakistan, Marinus W. Sikkel, Chief, Private Sector and Development Section, Trade and Investment Division UN ESCAP who handed over the award to Ravi Fernando, UN Global Compact Focal point for Sri Lanka & CEO Slintec and Ambreen Wahid of UNGC Pakistan.
UNGCLN Sri Lanka Focal Point, Ravi Fernando, who is the CEO of Sri Lanka Institute of Nanotechnology, received the Award on behalf of UNGCLN SL and the key citation was that Sri Lanka is the first UNGC Local Network to link with a "World Class Business School—INSEAD" and develop case studies for UNGC Sri Lanka Network members, UNGCLN Sri Lanka said in a statement.
UNGCLN SL comes under the umbrella of the United Nations Global Compact, an international initiative launched by the UN for the purpose of promoting corporate citizenship through a commitment to sustainable business.
It has about 31 members comprising the leading corporate giants in industries such as Apparel, Textiles, Plantations, Tourism, Finance, Communication, FMCG Retail, Agro value added, etc.
The seven cases, which feature UNGCLN SL member companies, are currently being used at the INSEAD MBA and Advanced Management Program since 2006 and many other European Business Schools.
They are - Hayleys PLC– Focusing on Corporate Responsibility; Mabroc Kelani Valley plantations—Mabroc Kelani Valley Teas: Creating "The World's Ethical Tea Brand"; Jetwing Hotels—Jetwing Hotels: Applying Corporate Responsibility to Tourism; Hayley's MGT Knitting—Hayleys MTG Knitting Mills PLC; Dipped Products Limited—Dipped Products PLC (DPL): "Firstlight" for Suppliers"; MAS Holdings—MAS Holdings: Strategic Corporate Social Responsibility in the Apparel Industry; and MAS Holdings: Leveraging Corporate Responsibility.
At the Bangkok event, Mr Fernando, moderated the session for "Building a Low Carbon Future" and also conducted a diplomacy training titled, "Corporate Sustainability and Accountability: The Challenges in Asia", which was organized by OECD Watch where the Brandix Green Plant was presented by Iresha Somarathne, Head of Energy and Environment, Brandix Lanka Ltd.
Kelani Valley Plantations INSEAD case was highlighted at the OECD/ESCAP Regional Conference on Corporate Social Responsibility: "Why Responsible Business Conduct Matters."