Asian Development Bank, FMO (the Dutch Development Bank) and International Finance Corporation are some entities interested in investing in Leopard Capital Sri Lanka, which will be launching Leopard Sri Lanka Fund LP and Leopard Sri Lanka Value Fund by next year, according to officials.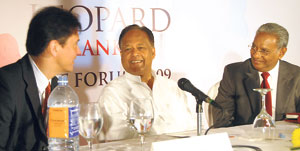 Deputy Finance Minister Sarath Amunugama, Ranjith Fernando and Douglas Clayton at Leopard's Colombo forum. Pic by Sanka Vidanagama
"Leopard has had discussions with these entities," an official told the Sunday Times FT on the sidelines of a press conference to introduce Leopard Capital Funds. Ranjith Fernando, Chairman Leopard Sri Lanka, while not commenting on the specific entities that are interested in this fund, told the Sunday Times FT that most provident funds in the US and UK as well as the fund management community in those countries have shown interest. "They always seek opportunities in the emerging markets," he said.
Leopard Capital Sri Lanka is a joint venture between Orion Capital Partners in Sri Lanka and Leopard Capital of Hong Kong that has launched a private equity fund with a fund size of US$ 100 million.
"With the advent of peace in the country it is anticipated that there will be unprecedented growth in the economy. Leopard Sri Lanka will assist in supporting this growth capital requirement amongst midsized Sri Lankan companies," Mr. Fernando said, speaking at the launch.
He said the private equity fund will concentrate on investing in companies that demonstrate strong growth prospects. "Whilst we will mostly be investing in non-quoted business, we will also look at making investments in the quoted space if the valuation and prospects of the targets are compelling," Managing Partner Leopard Capital Sri Lanka, Nirosh De Silva said. The Fund will start capital raising in January 2010.
Mr. Fernando said that the private equity fund will be targeting mature firms having an established track record. "The value fund will invest in listed firms," he said. Douglas Clayton, CEO Leopard Capital (Asia) said that Sri Lanka is becoming interesting to the global investment community in a way that it has not been for the last 25 years.
"The biggest challenge is telling the Sri Lanka story in a way that foreigners understand. Much attention is focused on the human rights and the political scenario here, but there are more exciting things such as the upcoming financial renaissance in this country," he said. He said the firms they are interested in for investing in these funds are thus which have scalability of a business, quality of the management team, market leaders with a commitment to transparency and also those which are easy to exit.
Thomas Hugger, Managing Partner Leopard Capital (Asia) said that this fund will invest for the first five years and in 2015, it will seek exit possibilities.