The Central Bank of Sri Lanka on Tuesday issued a commemorative note in the denomination of Rs 1000 to mark the ushering of peace and prosperity to Sri Lanka.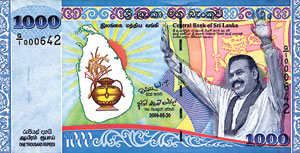 The bank said it issued the first commemorative note to mark the 50th anniversary of independence of Sri Lanka in 1998 and this is the second commemorative note that is being issued. "
The theme on the note is one country and one nation in harmony, progressing towards prosperity under the leadership of His Excellency President, Mahinda Rajapaksa. It depicts the image of His Excellency President, Mahinda Rajapaksa," it said adding that a map of Sri Lanka with the rising sun in the background is also seen.
The pictures and graphics on the note signify territorial integrity, prosperity, national harmony and peace, contribution of the armed forces and turning points in the battle against the LTTE. The first note was issued to President Mahinda Rajapaksa by the Governor of the Central Bank Ajith Nivard Cabraal on Tuesday.