Wisdom Business Academy - the largest CIMA Business School in Sri Lanka trusted by countless numbers of students as well as top-notch employers now gears itself for the Operational, Management and Strategic levels of CIMA new syllabus, in a new-and-improved sense. Having established in 2002, Wisdom has in its resolve to provide solid academic assistance to students of CIMA, evolved to become a key supplier of management accountants into the job market. This comes with its holistic approach to grooming its students both academically - in the classroom; and socially - out of the classroom offering the students "a beyond education experience".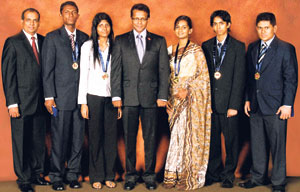 "Wisdom Prize Winners for May 2009 Exam with Shanil Jayasekera (Director of Wisdom Business Academy) and Bradley Emerson (Regional Director, CIMA)
Wisdom's success can be attribution to maintaining its focus on its core competency - and that is, being an academy that concentrates solely on CIMA. This has, over the year catalyzed its development as the specialist in CIMA education.
At Wisdom, the syllabus is covered one month prior to the exams. Its infrastructure is especially geared towards student requirements. Lecture evaluation is done in a two-pronged manner: by the pass rates achieved, as well as levels of satisfaction recorded by students.
A comprehensive revision programme is completed within a duration of six classes. Further, two mock examinations are conducted in real exam conditions and answer scripts are personally marked by the respective lecturer with suggestions for improvement. In keeping to its focus of examination preparation, a minimum of 10 past papers are discussed at the class while personal attention is given to improving the performance levels of weaker students.
Wisdom attributes its status as a big-wig, when it comes to churning out noteworthy successes at the CIMA examinations to commitment rendered by its academic and non-academic staff. The academy maintains that the collective effort adds to its winning formula of being effective mentors of employable individuals with a dedication and passion for the discipline of Management Accounting.
Wisdom added more Prize Winners to its prestigious "Hall of Fame", by producing 5 Sri Lanka prize winners out of the 10 subjects at the last CIMA examination held in May 2009. Since its inception, Wisdom has produced 7 world prize winners and 76 Sri Lanka prize winners. According to official results released from CIMA UK in May 2009, Wisdom secured pass rate levels that outperformed the rates for Sri Lanka, UK and even the world. In being appointed a Learning Quality Partner by CIMA-UK, Wisdom honours its terms and conditions of not publishing the actual pass rates for promotional purposes and instead strives to live up to its vocation of turning out true professionals.