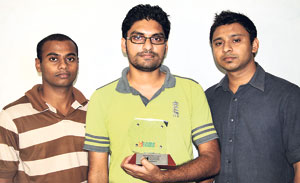 Lanka Software Foundation (LSF) has won a special mention award for the Dcache project in the e-Swabhimani Awards ceremony that took place on November 6 2009 under the e-Science and Technology category.. The Dalesa Project Team consists of three members headed by Wathsala Withanage, Nuwan Gunarathna and Nishshanka Sirisena.
"We are honoured to have won the award for Dcache and it is encouraging to have a national level award just after few months from initiating the project. The award further proves LSF's excellence in initiating and delivering great open source software products in diverse fields. I would like to take this opportunity to thank e-Swabimani organizers' grand jury for nominating and selecting us for this award and my fellow team members for their hard work and dedication, which had taken us to great heights during the first few months of the project," says Wathsala Withanage, upon winning the award.
About Dcache
Dcache is a peer-to-peer web cache which increases the performance of web browsing without help from any centralized caching system like Squid. In August 2009, the Dalesa team successfully tested this software at the Sooriyawewa Nenasala. The specialty of Sooriyawewa Nenasala is its mobile library. Several laptops that are being used in the mobile library were installed with Dcache the day before the pilot.
The system was operated over a wireless network and presented to prospective users of the system and ICTA, the funding body. According to the operators of the Sooriyawewa Nanasala, the system could be extremely beneficial in their mobile library which connects to the Internet over an HSDPA connection which in certain locations falls back to GPRS mode. In situations of this nature, Dcache promises to be highly useful.
Advantages of Dcache
" Does not require a separate computer dedicated for it with a skilled person to configure, manage and maintain it, and it is therefore highly beneficial for a small rural community.
" The software was tested on Linux systems configured to form Mesh networks (IEEE 802.11s). With mesh technology, places like Nenasala will be able to extend their service to a small rural community covering every household with a computer. When many households are covered in this manner, bandwidth will become a scarce resource, and in such situations Dcache will allow users to browse the web without hindering the quality of their browsing experience.
Future of Dcache
The team looks to improve Dcache in various ways like integrating modules for Optimistic Pre-Fetching, Meta Search Engine, Content Centric Social Networking, etc. All the above mentioned modules could become a reality in the future as each individual computer in the network turns into a content and information archive where user interactions and browsing patterns are stored.