Currently the environment is gradually becoming more conducive towards the property development sector with the end of the war and the economic recession coming to a close. Therefore, people are once again looking at property development as an ideal investment opportunity.

Nivasie Developers Private Limited which today has carved out a name for itself in the property development industry as one of the leading property developers in the country, through benchmark projects such as Nivasiepura, The Nest, Hill Crest Estate, Iceland Residencies, and Victoria Range Bungalows etc., has become the pioneers in providing quality housing solutions. The Sunday Times spoke to Mr. Dilan Senevirathne, Assistant General Manager of Nivasie Developers to find out about their current position with regard to the property development sector.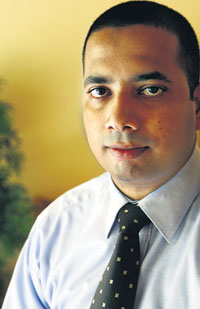 Dilan Senevirathne, Assistant General Manager of Nivasie Developers
"A house is a lifetime investment and Nivasie Developers, which is a main contractor for International Construction Consortium Limited (ICC), one of the leading construction companies in the country as well as overseas, has built up a sound and enviable reputation as being a reliable property developer that specializes in providing the best quality housing solutions in the market", says Mr. Senevirathne.
As all Nivasie Properties appreciate with time your investment is always stable and secure.

Speaking on the current customer trends in the market Mr. Senevirathne said, "Today people are under the impression that there is an over supply at present in the property market and therefore property developers are compelled to sell their products at any cost.
This is the main reason that customers always bargain with regard to pricing, however due to the reason that we always adhere to quality standards we incur certain costs when designing and developing a high quality product to the market, which is why our price structure is fixed.
However I would like to mention that when it comes to pricing we are very competitive in the market. In the area of Kandy alone we have sold over 200 houses, therefore if you invest with us you will definitely be very satisfied with regard to your investment in the long run."

With the country's 30 year old war finally over Sri Lankans living overseas now feel that this is the ideal time to come home to their motherland either for retirement or permanent settlement purposes or to spend their holidays. A majority of expatriates always prefer the area of Kandy due to its cool and breezy climes and friendly environment, so therefore projects such as the Victoria Range of Bungalows will be ideal to cater to the needs of these market segments.

With the current market becoming more favourable towards property development companies in the country, Nivasie Developers offers bungalow types such as Indica, Super Tectonia, Ebony and Tamarind which offer different levels of luxury and a wide range of housing opportunities to customers that are the very best when it comes to lifetime investments and much more.