'R&G' - the pioneer in Sri Lanka's imaging industry is joining hands with 'Fullmark Pte Ltd'(Singapore) - the pioneer in Asia for manufacturing of quality certified printer ribbons, thus heralding an extremely productive future for all those relying on high quality computer based imaging and printing solutions.
The ceremonial official launch of this momentous collaboration and it's dealership convention tookplace on the 1st September at Hotel Renuka, Colombo & Queens hotel Kandy inviting dealers & agents from all parts of island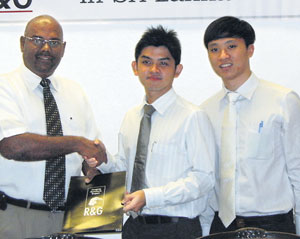 S.M. Godwin -MD R& G capital (Pvt) Ltd. and Executives from Fullmark Pte Ltd Richard Tan Jimmy Kuncoro
17 years old R&G is the premier company in Sri Lanka for manufacturing of compatible solutions for laser, ribbon and ink-jet cartridge printers, whilst Fullmark's fame originates from manufacturing of high quality computer supplies such as inkjet cartridges, refill inks and bulk inks, printer & typewriter ribbons, photo print paper , inkjet papers ,correction tapes, highlighter tapes and post-it-tapes etc., amongst a wide range of high in demand products.
Whilst fulfilling a growing need, to have the necessary printing solutions close at hand of the ever increasing numbers of end-users, this collaboration between R&G and Fullmark will also productively ensure the simplification, thereby, the enhanced overall profitability of the entire printing and imaging industry.

International Imaging Technology of United States of America has approved the standard of R&G manufactured product range, which ensures hundred percent compatibility with HP, Lexmark and other popular printer Cartridges . This compliments R&G's unique TLC concept that means Total Laser Care. It is indeed this uniqueness that has enabled R&G to achieve and maintain their ever growing popularity in the merchandising of their product range to all the leading players in the banking, insurance, healthcare, hospitality, shipping, aviation, financial, plantation and production industries.

As a progressively involved company with the revolutionary IT industry since the 1970's, Fullmark (Singapore) has consistently maintained its product superiority through unceasing upgrading of its product manufacturing facilities in Singapore as well as in Malaysia, through ISO 9002 to recent ISO 14001. This in itself confirms and compliments the unwavering customer loyalty towards Fullmark product range that keeps it market share expansion on a virtual upward curve.

R&G's strong product presence (or now exports to) in India and Australia has it's solid foundation in the company's growing customer base, which is a direct result of the precise innovations and extensive customer-care focus the company consistently employs through a dedicated, trained and experienced staff, superbly supported by a high-tech engineering facility More information contact Bilal Thahir 0777 415282 , Marketing Manager R&G Capital (Pvt) Ltd.
www.rng.lk/ www.fullmark.com