Mrs. Sandra Wanduragala is a classic example of a modern business woman who has through her own self determination, commitment and leadership achieved great heights in the business world. She is the proud founder of Selyn Exports Private Limited, which started off with humble beginnings and is today one of the country's most dominant players in the local handloom industry. Having built up a solid reputation for itself both in Sri Lanka and internationally, Selyn is one the greatest success stories with regards to Sri Lankan entrepreneurship. The Sunday Times spoke to Mrs. Wanduragala, to find out more about her business.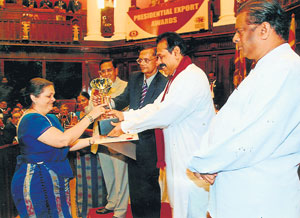 Mrs. Chandra Wanduragala receiving the Presidential Export Award from His Excellency the President Mr. Mahinda Rajapaksa.
"I started Selyn 18 years ago in my village of Wanduragala near Kurunegala with a team of 15 women. We began by first manufacturing handloom fabrics which were then followed by the production of other fabric based products giving a great value addition to handloom fabrics. We have a large range of textile based products which also includes household linen, curtaining for homes and also for the Hotel Industry", says Mrs. Wanduragala.

Selyn also manufactures attractive handloom clothing which includes Sarees, Shirts, Sarongs and Blouses etc.

The company upholds stringent policies with regards to product quality and excellence which has been recognized by numerous accolades and awards both locally and internationally. Among the recognitions bestowed upon them is the Presidential Award for the year 2005/2006 for Outstanding Performance in the Handloom category and also for the most outstanding Small and Medium Industry for 2005.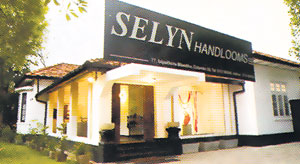 Colombo showroom at Isipathana Road
Selyn is also a member of the prestigious WFTO (World Fair Trade Organization) an honour given to a selected few in the international business world. The WFTO membership is granted to business entities that adhere to the WFTO standards and guidelines which include ethical and fair trading practices.

In conclusion Mrs. Wanduragala said, "Selyn is more than a company and our utmost aim is to provide sustainable livelihoods to the many rural women and men who depend on us for their sustenance. We believe that everyone who contributes to Selyn, from the weavers to those who buy our products, is responsible to the success of our story.

I must stress that we as Sri Lankans should give greater preference to Sri Lankan products as the livelihoods of many families depend on the success of these local productions, which in turn also contributes to growth of our economy. We can all contribute in a simple way; for example, 52% of the Sri Lanka's population are women and most of us wear Sarees. If each of us buys locally produced Sarees, not only will this support the industry but it will also support other women in our country.

I wish to extend my gratitude to all those who have supported and believed in us during the good times and the bad and to Hilary Wanduragala and all at Selyn for being so selflessly committed and motivated to make the vision of Selyn a reality."