Captain Kumar Sangakkara insists Sri Lanka have "a lot more to offer" despite their six-wicket loss at the hands of the English at the Wanderers on Friday.

The sub-continental team failed to defend 212 runs in the low-scoring Champions Trophy B clash, with the spin combination of Ajantha Mendis and Muttiah Muralitharan proven ineffective by solid knocks from Owais Shah, Paul Collingwood and Eoin Morgan."We are accountable to ourselves and the Sri Lankan public and we hope to get better from now on," he insisted at the post-match press conference.
Sangakkara found praise for Thilina Kandamby, Angelo Mathews and Thilan Samaraweera, who earlier in the day collectively played a vital role in Sri Lanka's recovery from 17 for four to 212 all out, but questioned about the state of the pitch and his bowlers' inability to come to the party.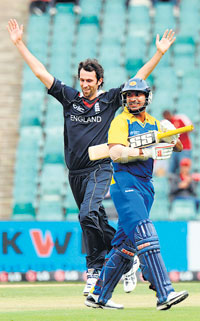 England bowler Graham Onions celebrates the dismissal of Kumar Sangakkara during The ICC Champions Trophy match between
England vs Sri Lanka at The New Wanderers Stadium in Johannesburg on September 25.AFP
"Kandamby, Mathews and Samaraweera showed a lot of character and all-round excellence. They were excellent. We have sort of solved our middle-order problems and now it's just a matter of getting all the guys to fire at once and get mentally tougher," he added.

"It seemed a good score going into England's chase but we were poor in the middle overs. That's the way it goes, though.

"The cracks and grass on the track made it a bit like the first day of a Test match. It's hard to play proper ODI cricket on that but it's up to us to fight and adjust from here on in.

The Sri Lankan skipper hailed Morgan's match-winning knock as a job well done and offered the Irish-cum-Englishman's fellow contributors due praise.

"I thought Morgan was lucky to begin with, getting a couple of edges flying past the slips and top edges off the paddle sweep. But in the end he understood his job and everyone wants that from their players. His innings was crucial," said Sangakkara."Collingwood and Shah batted well, while we didn't manage to pick up the wickets we needed to."

Mathews was involved in a peculiar run-out, which saw him collide with bowler Graham Onions and subsequently robbed of making his ground at the striker's end. But opposing captain Andrew Strauss, after watching replays of the incident, allowed the all-rounder to continue batting, leaving Sangakkara pleased at "an excellent gesture of sportsmanship."

"It was in the spirit of the game. Maybe it was an accident, it's all up to interpretation. In the end though the right thing was done," enthused Kumar.

Sri Lanka's next Champs Trophy clash sees them come up against New Zealand on Sunday, with Sangakkara hinting at possible changes to the starting XI for the match.

"There are good players on the bench hoping to get a look in. We will think about and probably worry about the team in due course and in the end probably make the obvious decision," he concluded. "If we beat New Zealand we are pretty much into the semi-final. We are going to think about our processes, cover our bases and perform to the best of our ability." Cricket365